Once a booming gold mining town some 200 years ago, Bau is now the hotspot for ecotourism. It is located about 35km from Sarawak capital city of Kuching, with just a 30 minutes drive away.
All the while, Bau is famous for its' prime attractions like Tasik Biru, Wind Cave and Fairy Cave etc. Just recently, more and more new attractions are being uncovered, making Bau a more vibrant town, not only to tourists from nearby cities and foreigners, but also to the local.
There is unseen traffic congestion recently in this small town of Bau especially during weekend, packed with tourists and cars flocking in from nearby Kuching, Lundu, Sentosa, Serian etc. It is now a hotspot for ecotourism after the government has announced plan to develop this town in full swing, some which we can see from the pictures below.
There are definitely more than 10 Must Visit tourist attractions in Bau, ranging from limestone caves, mountains, lake and water falls etc. However, I will try to squeeze in the top 10 in this introductory article.
Tasik Biru (Blue Lake) Resort City
Tasik Biru is a man-made lake and was originally an open gold mining pit which started in 1820. It was named as Blue Lake because of it's turquoise blue water, which is a result of high levels of arsenic that was left over from the old gold mining activities. In fact, it is originally named as Tai Parit by the local Chinese Hakka, which means Big Ditch that store the world's best quality and most elegant gold.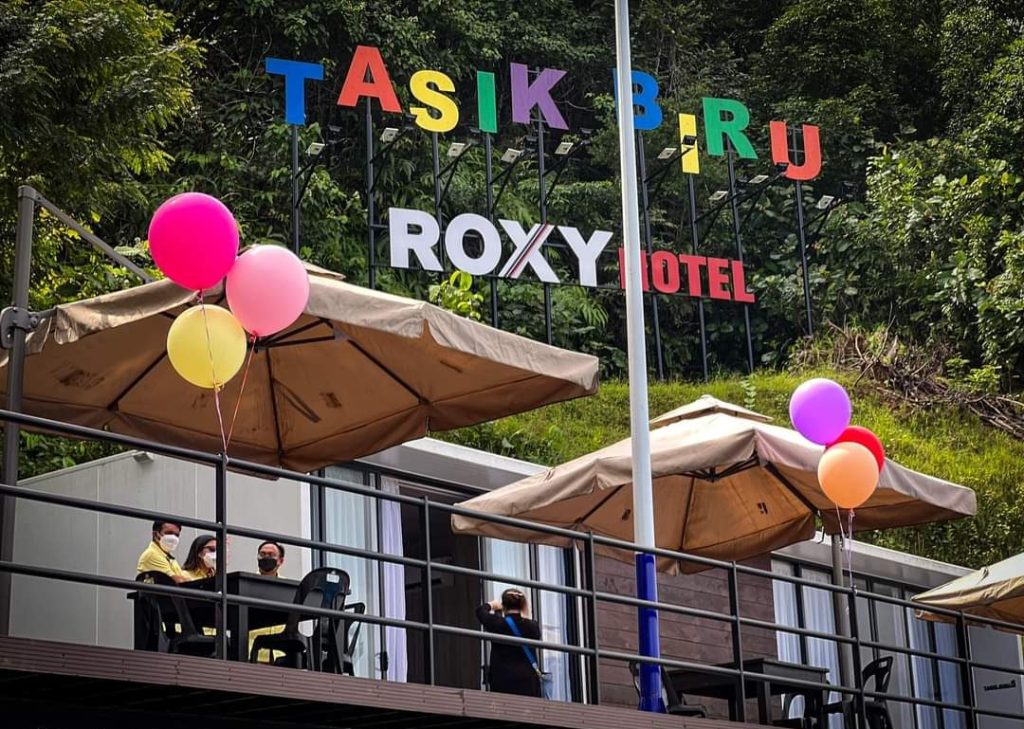 With the reduction in arsenic content in recent years, Tasik Biru has transformed into a top spot for tourists in Bau, even in Sarawak, called Tasik Biru Resort City.
New floating hotel, named as Roxy Tasik Biru Floating Chalets which is built on the calm waters of Tasik Biru, is a new one of it's kind hotel concept in Sarawak.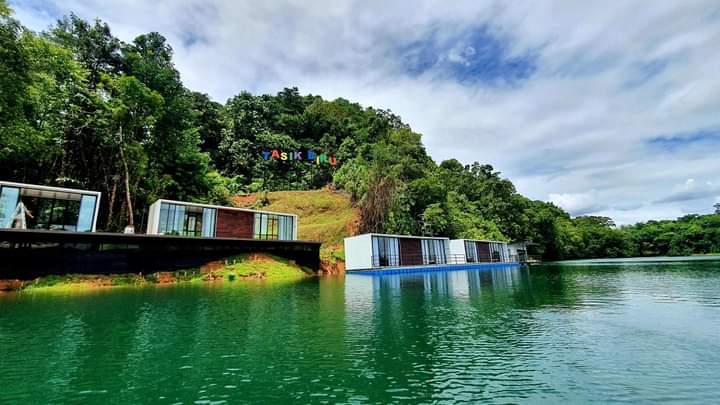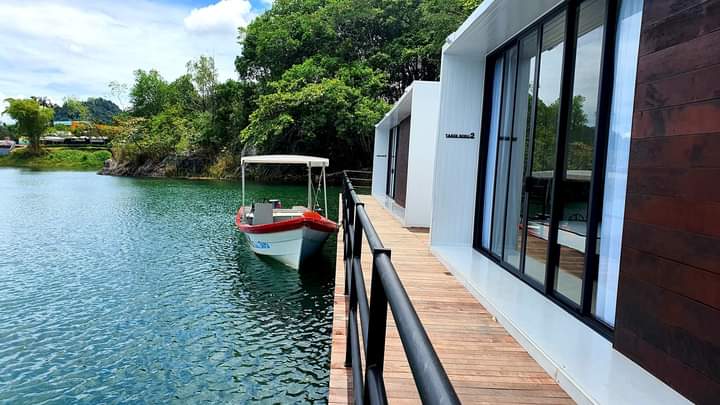 Beside appreciate the tranquillity surrounds this lake area while staying in the floating chalets, there are other attractive activities that you can do or explore here. For example, you can experience A-Walk-on-the-Water when crossing the floating bridge on the lake, which is built directly across Tasik Biru.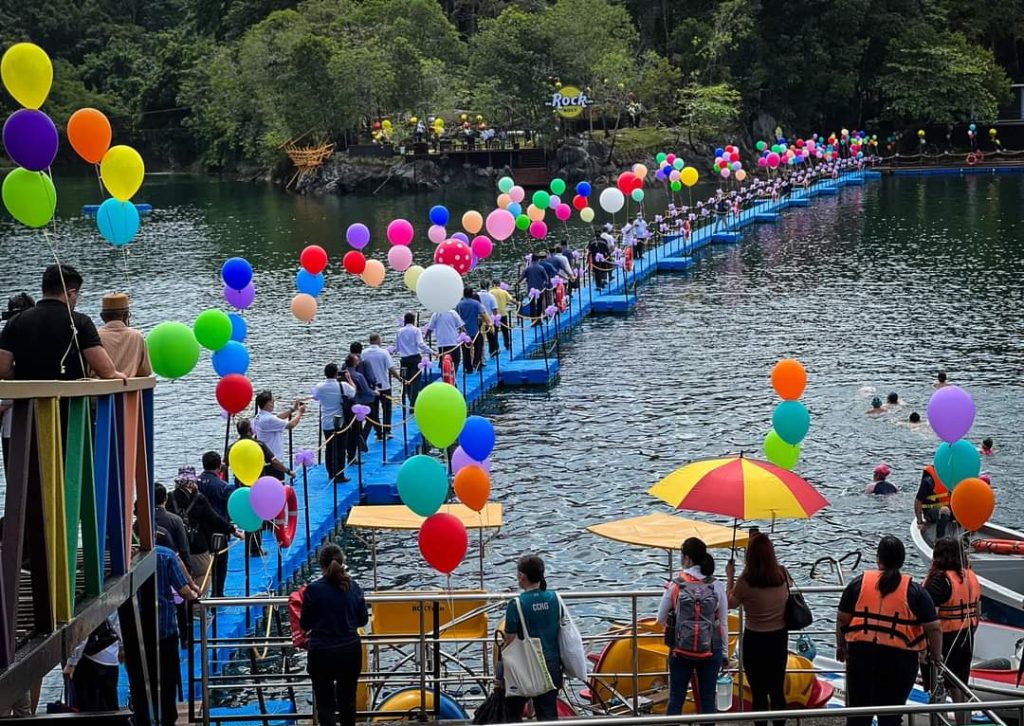 You may also hop on the small pedal boat and enjoy the fun of explore every corner of the lake.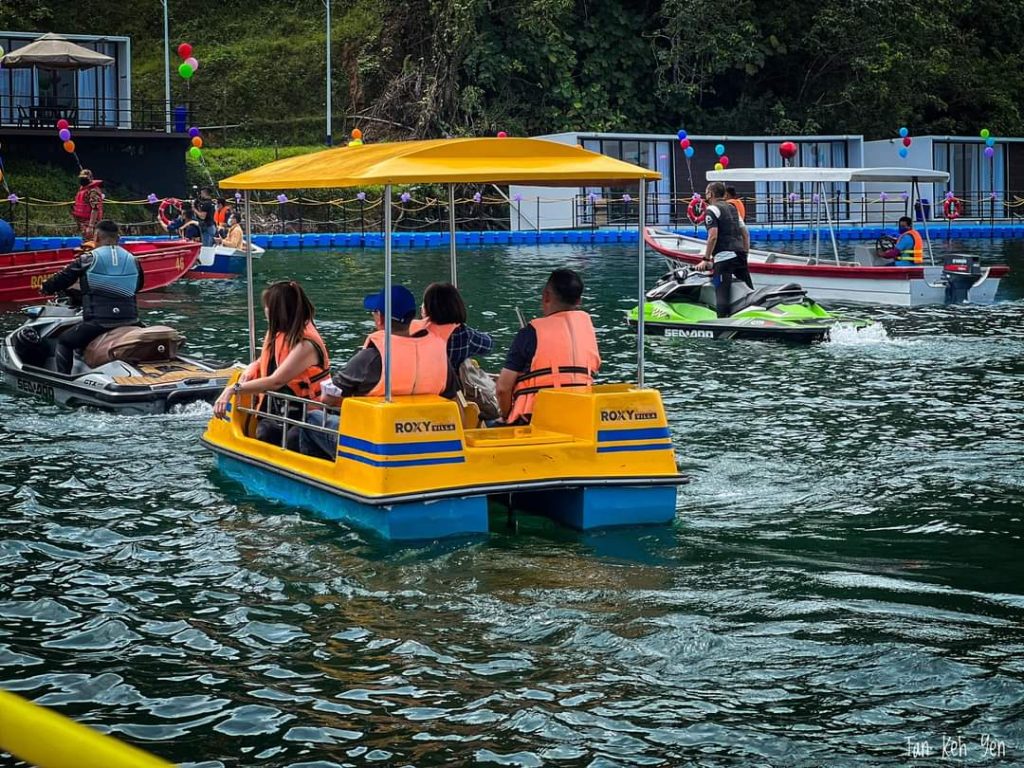 Furthermore, you can enjoy local and Asian delights at the nearby food court.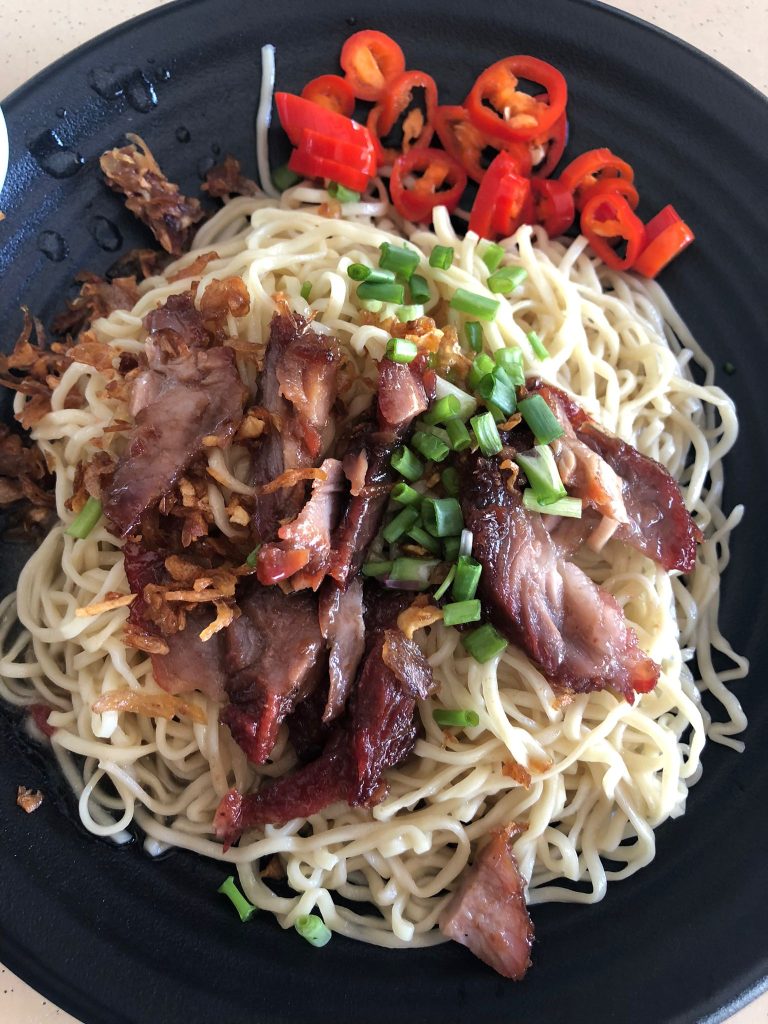 In short, this resort with many new amenities is now a perfect holiday getaway for tourists who want to escape from the busy and over-crowded city life for a full relaxation and recharge trip.
Bau Wind Cave
Located just 2.2km away from Tasik Biru Resort City, Wind Cave is not a new tourist attraction for local and foreigners. It is called Wind cave because there is a constant cool breeze that blows throughout the cavern. You can observe many amazing stalagmites that formed thousands years ago You may also spot some swiftlets and bats that dwell within this large cave. There is also a river running through beside this cave, it is a branch of Sarawak River.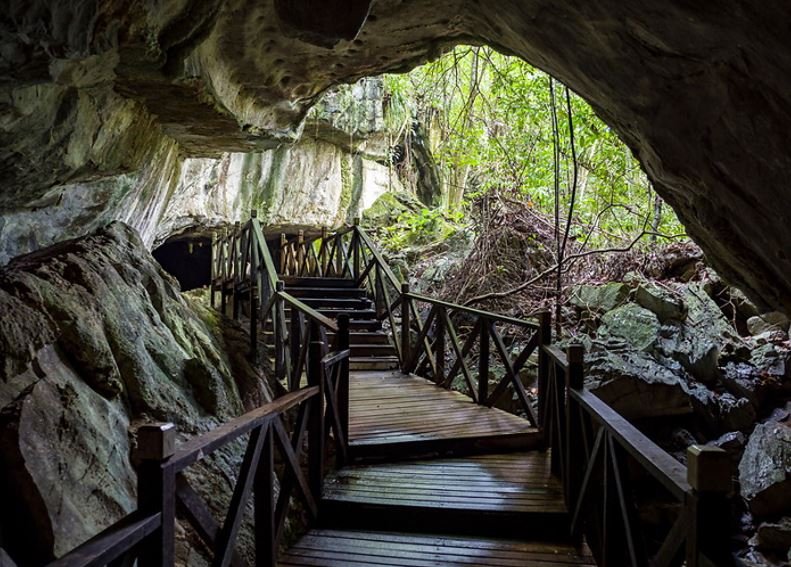 Bau Fairy Cave
Further to the southwest, about 7km from Wind Cave, you will find another Stalagmite cave attractions, the Fairy Cave. It is named after a stalagmite structure at the entrance that is said to resemble a Chinese deity.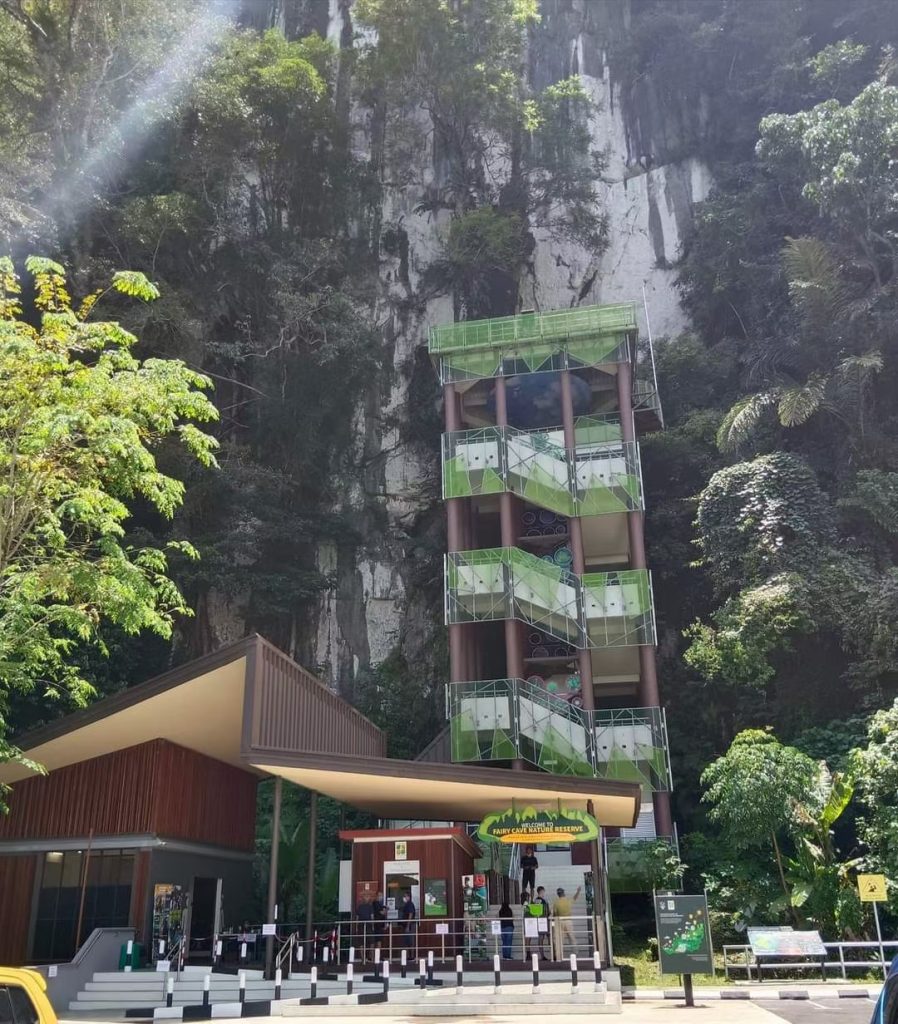 Inside, you will notice the great contrasts between the light entering the cave and its shadowy darkness, along with hues of brown and grey of the rocks – highlighted by the rich green of the moss. This is an instable place. Further on top of the cave, you will discover a totally stunning view that looking over some paddy fields.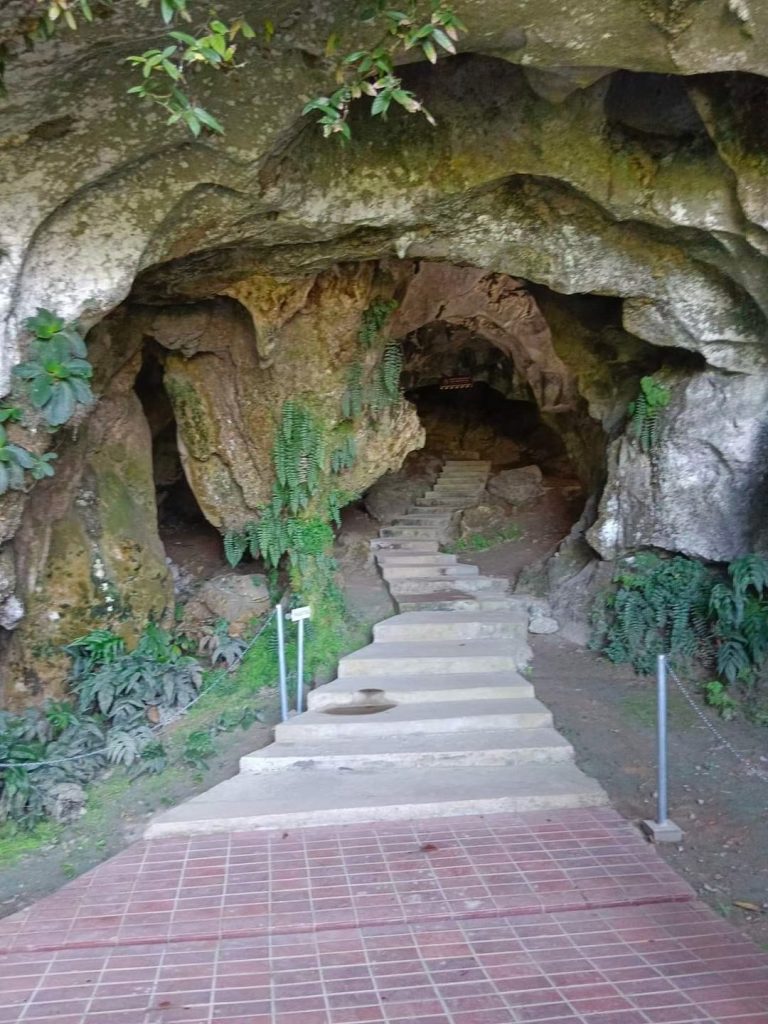 Another activity that can be done here is Rock Climbing, just outside this Fairy Cave. This is a perfect cliff to train and test the climbing skills of those rock climbing lovers, mostly from Kuching city.
Siniawan Night Market
Located just 10-15 minute drive away from Bau, this small old town is just a single street (2 rows of 24 face to face old wooden shophouses), but with big name since it started the weekly night market about 10 years ago. Decorated with rows of red lanterns across the street, Siniawan Night Market open every Friday, Saturday and Sunday from 5pm onward.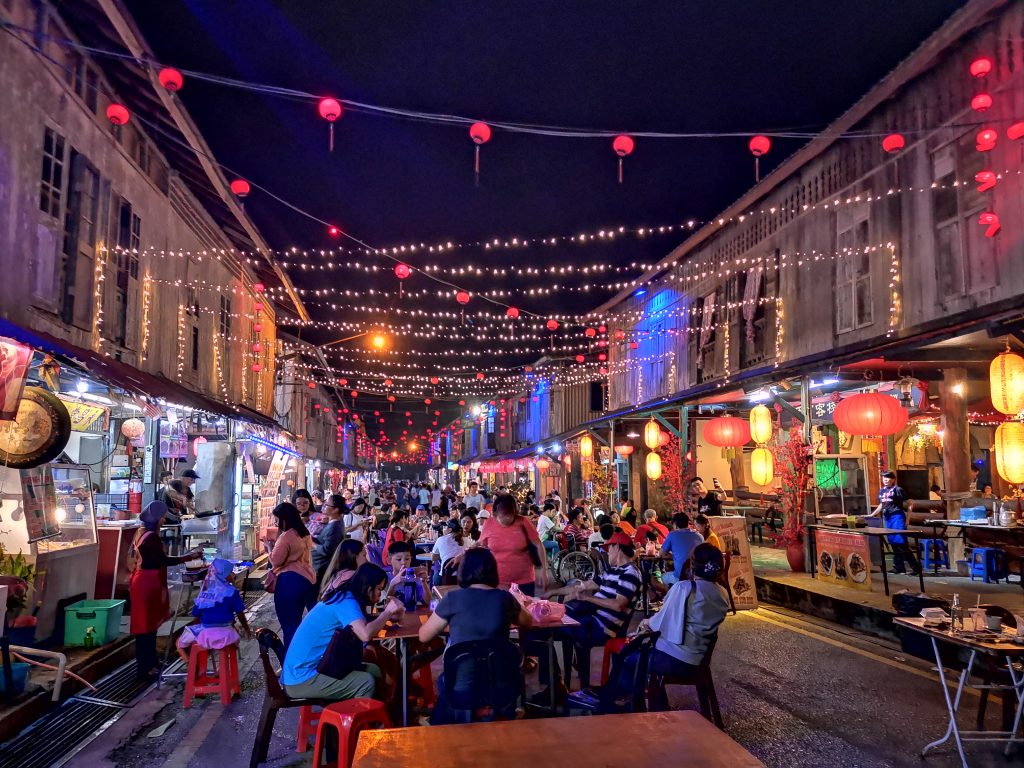 Always attracted many food goers and gourmet hunters from nearby towns and Kuching city, it offers a plethora of local delights as well as international cuisine like Taiwan, Thailand, Korea food etc. Not to forget to mention that there are some bars with very good vibe to enjoy a cup or 2 with your friends or love one too.
Do not miss this Siniawan Night Market if you have chance to visit Bau or Kuching.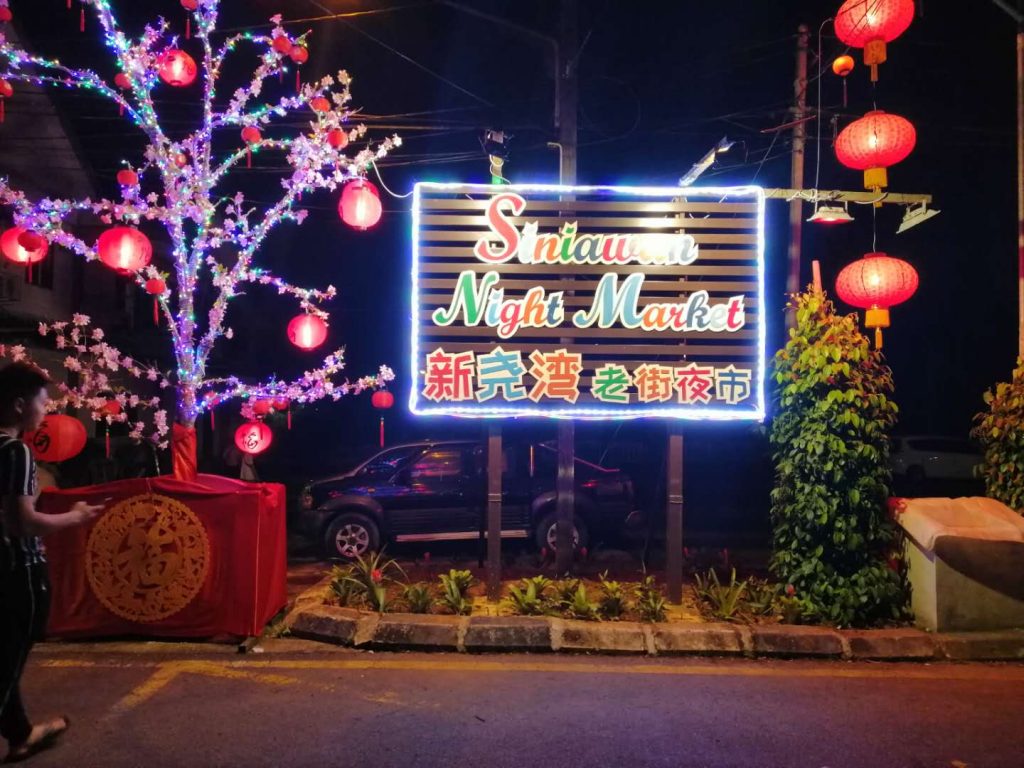 Bau Abba Paradise
Located just nearby the Bau fairy cave, Abba Paradise Bau is a new beautiful getaway spot for those who love natural tropical rainforest, camping and relaxation at a tranquil place. It takes less than an hour drive from Kuching, thus there are hundreds of visitor flock in almost every week. You have to pre-book if you plan to camp here.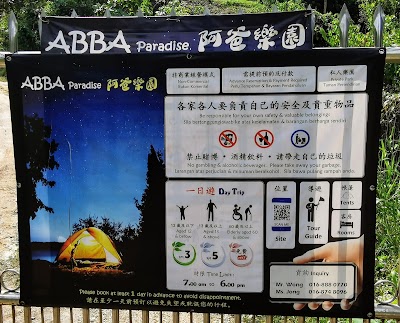 Besides appreciating and indulged in this tranquil natural haven, visitors can also jump into a specially designed natural swimming pool to enjoy the cool water flowing from the mountain. In fact, many people come here to have camping and BBQ with friends and family.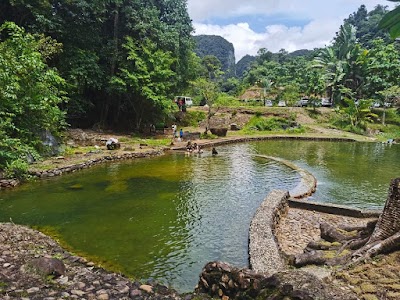 As this is a private property, the owner of Abba Paradise actually charges a very affordable entry fee for them to maintain this place. It cost only RM5 for adults and RM3 for children, while it is free for elderly. For those who like to explore and want to stay overnight, they can also choose to camp there for RM130. Homestay also available here with various types of rooms to choose from.
Bung Bratak Heritage Centre
Bung Bratak Heritage Centre is a Bidayuh historical site that is located at Kampung Tembawang in Bau, on top of a 1000-foot tall hill that will takes about 30 minutes to reach.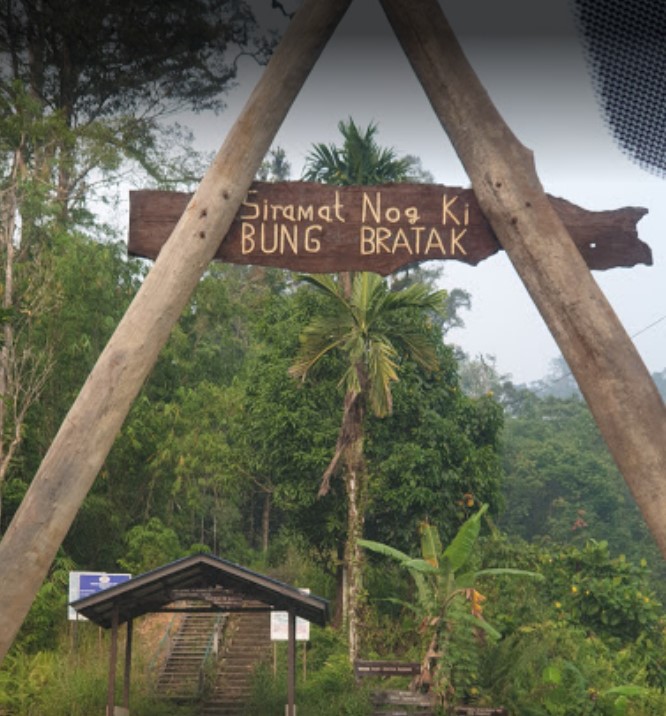 It is an ideal getaway location for visitors who love nature. Bung Bratak was originally a hill settlement of seven longhouses for Bidayuh, which is surrounded by thick forest. If offers a superb view from this hill top, especially during the sunrise. It is believed that the sunrise is one of the best in Malaysia. Visitors can also go for a jungle trek to the Bung Bratak waterfall nearby.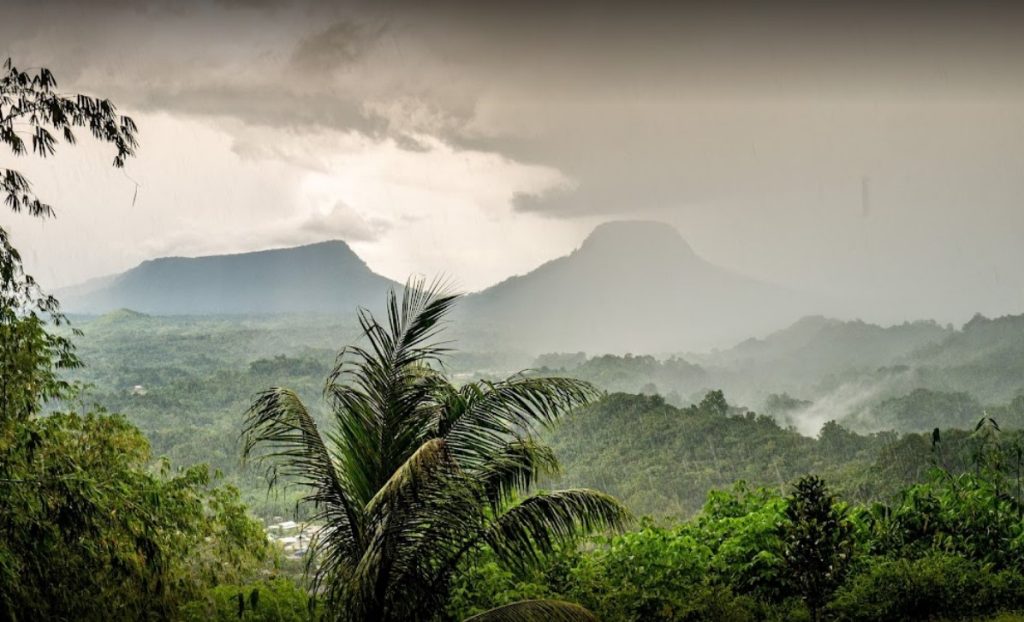 Serikin Weekend Market Bau
Located about 22km from the Goldmine town of Bau, Serikin Market is a famous weekend market along the border of Malaysia and Indonesia.
Once a quiet small village, Serikin Weekend Market has turned it into a popular tourist destinations for people from Kuching city as well as tourists from West Malaysia, thanks to the thriving cross-border trading activities here.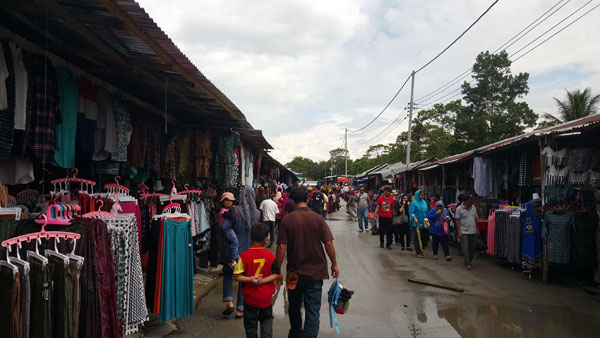 Serikin Weekend Market is where cheapest and rare goods are sold by not only local traders, but also traders from Indonesia. This includes dried food stuff, vegetables, meat, fish, authentic traditional handicrafts, rattan furniture, traditional carpet, bric-a-brac, gemstones, knick-knack, batik clothing, local fruits, wild ornamental plants and souvenirs.
You are able to do bargaining here. It is good to survey the price from few different shops first before starting to bargain for the best price. However, the items sold here are generally at very affordable price already.
Make this in your traveling list if you are visiting Bau or Kuching.
Paku Hot Spring
This natural spa has actually been there for very long time. It is only started to become widely known to tourists after the recent revitalisation into a tourist attraction. More facilities like toilet and changing room as well as pools to cater for legs soaking and bathing, and a bigger shelter roof are built to facilitate visitors.
It is believed that the hot spring water can not only rejuvenate your body, but also has some healing effect.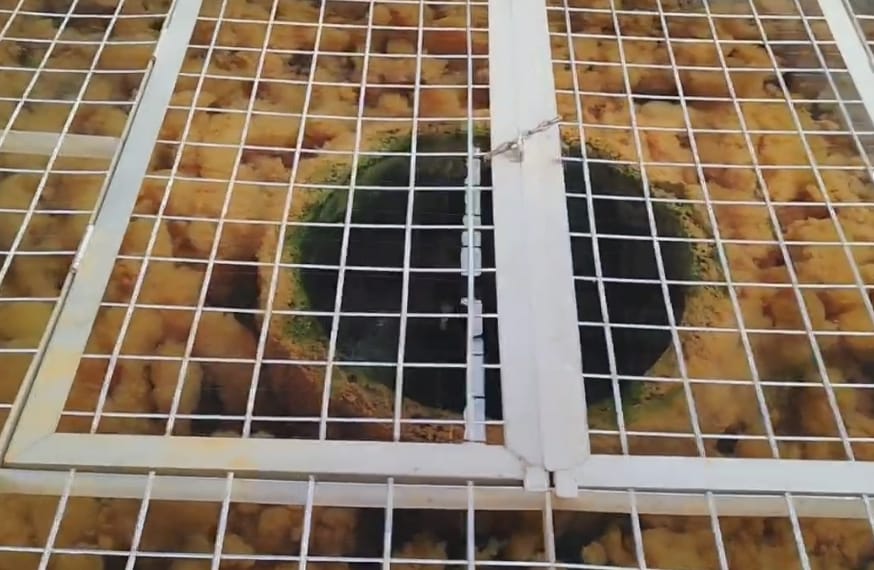 It is located at Jalan Air Panas of small Paku town, a 10 minute drive from Bau.
Paku Hot Spring opens daily from 9am – 7pm.
Ticket fee is affordable: RM5 for adult and RM3 for children.
View the full video of Paku Hot Spring (Kolam Air Panas Paku) here:
Paku Rock Maze Garden
Paku Rock Maze Garden is a rather new tourist attraction in Bau. It is located just behind the Shi Wang Gong Temple, about 10 minute drive from Bau town. It was an undeveloped primitive stone forest overgrown with shrubs before it is developed and open to public as a newest tourist attraction in May2022.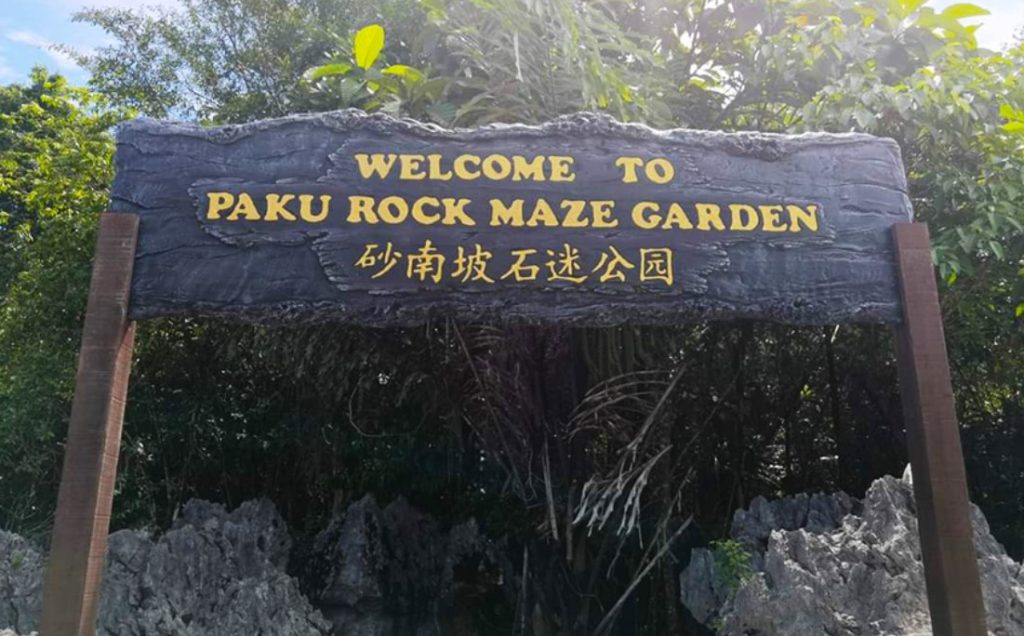 Paku Rock Maze Garden is an extremely precious geological heritage that is formed some few millions years ago. After entering through the main entrance, you will be greeted with many rocks and stones with very peculiar shapes. Thanks to the development of the walkway, it is actually very easily to navigate inside this rock maze now. So do not miss this new tourist attraction in Bau from your traveling list.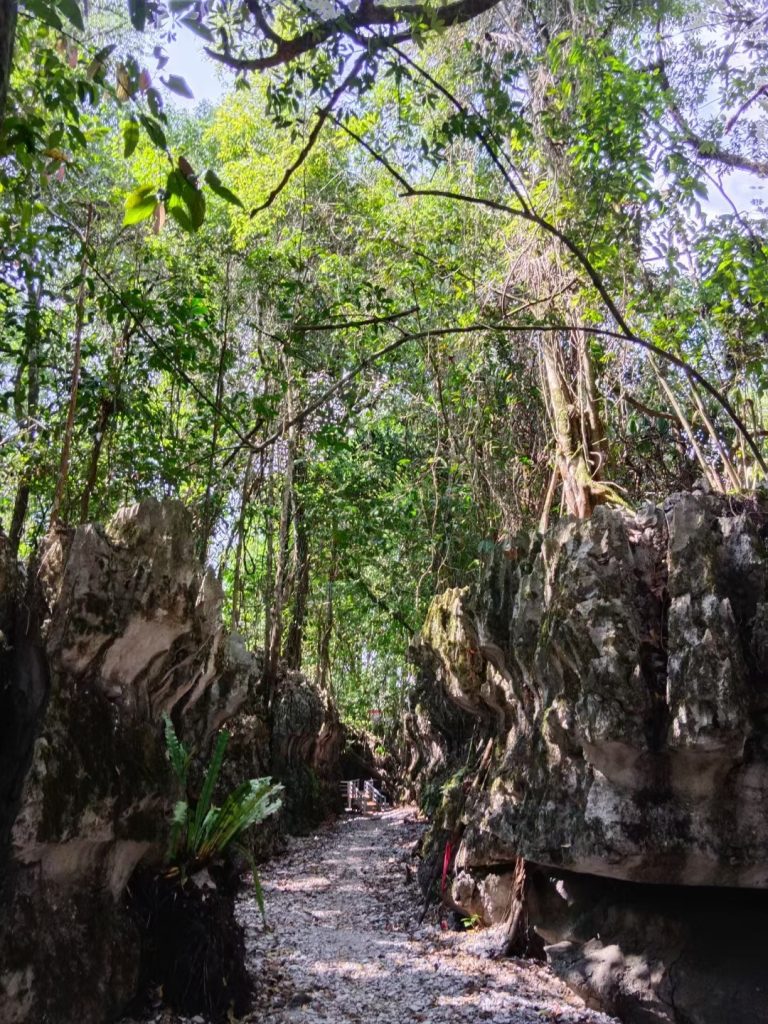 Libiki Bamboo Resort
For those who appreciate nature, rainforest jungle with river and small creature and inserts chirping in the surrounding, Libiki Bamboo Resort is the one that is not to be missed.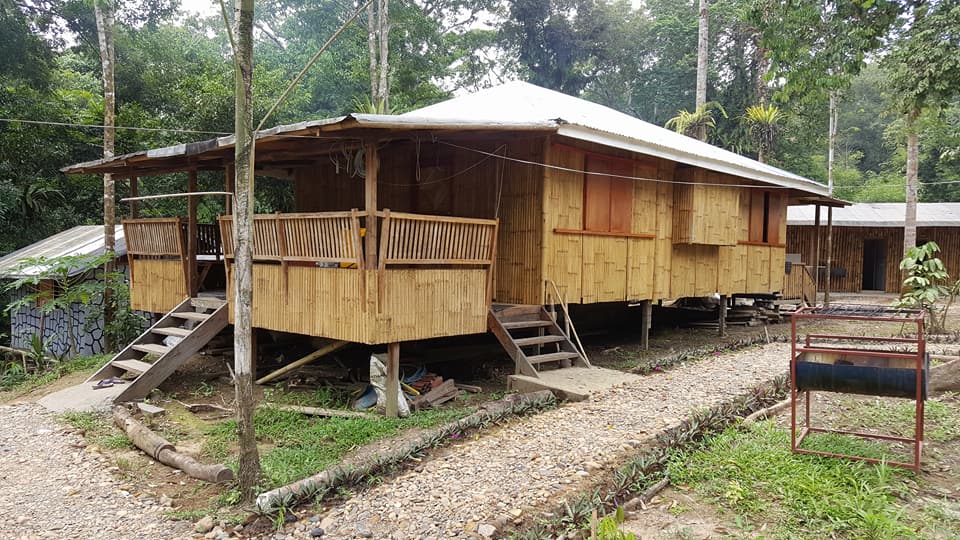 Beside appreciating the scenery and rainforest here, you can also have fun by doing activities like swimming in the river, BBQ, riding ATV etc. You can even camp at this site if you want, and grab the chance of watching the twinkling stars straight into the clear sky without any obstruction from any man-made building, and wake up in the next morning immersed in a rainforest cool and fresh air environment which you can't have in a concrete city jungle.
Located just 15 mins drive from Bau town, Libiki Bamboo Resort is another perfect place for a short getaway for your family & friends.
The above are the top 10 tourists attractions in Bau. Some of them are very new as it is just open to tourists. There are some other attractions in the making in Bau, and I will update this list in future if needed. Hope you enjoy your holiday in Bau town, away from busy city.
Looking for hotels to stay in Bau? Check out the BEST deals here.
Do Make Sure to check out our most comprehensive introduction of all types of unique hotels in Kuching here.