Top 10 Things To Do in Kuching
There are many things that you can do in Kuching as a tourist. This blogpost will try to list down the Top 10 Things To Do in Kuching for you.
Experiencing Ethnical Culture at the Sarawak Cultural Village
Explore the Sarawak Museum
Ancestry Tracing at Semenggoh WildLife Centre
A visit to the National Parks
Adventure at The Long House
Salivating over local delights
Shopper's paradise
Heritage walk and fodd from the "Olden Days"
A Leisure walk at the Kuching Waterfront
Going local at Satok Wet Market
Experiencing Ethnical Culture at the Sarawak Cultural Village
The Sarawak Culture Village is a "Living Museum" providing an informative introduction to the cultures and lifestyles of Sarawak's different ethnic communities. Other than the authentic replica-houses of various ethnicities like the Iban, Bidayuh, Melanau, Ulu, Malays & Chinese, there is also a theatre in the village where visitors can enjoy multi-cultural dance performances. Visitors can also enjoy food from different ethnic groups at the restaurant. There is also a handicrafts shop on-site.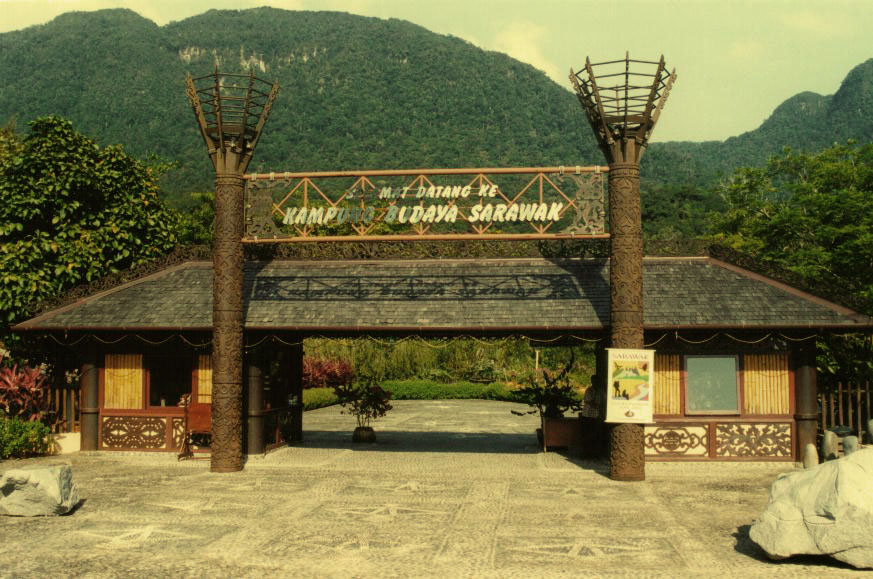 Explore the Sarawak Museum
Fort Magherita was built in 1879 to guard Kuching's river from pirates. It was named after the wife of Charles Brooke, the 2nd White Rajah of Sarawak. It now serves as the Brooke Gallery, with artefacts from the Brooke era in Sarawak, the building is one of the most important landmarks of Kuching. In addition, there are also other museums worth visiting such as the Sarawak Museum, Textile Museum, Cat Museum, Timber Museum and the Borneo House Museum (an interactive 3D and educational museum).
Ancestry Tracing at Semenggoh WildLife Centre
More than 20 of our distant cousins, the Orang Utans, roam freely within this forest reserve. If you wish to take a peek at these cute Orang Utans while enjoying nature, this is where you want to be. In 2016, the Bornean Orang Utans were added to the endangered list.
A visit to the National Parks
Are you a nature lover? A trip to one of Sarawak's National Parks is definitely worth your time if you are looking for a relaxed and stress-free experience. With breath-taking rainforests, abundant wildlife and white breaches, Bako National Park offers visitors and excellent introduction to the forests of Sarawak. Home to the largest flower in the world – the Rafflesia, Gunung Gading National Park is a rugged mountain covered with green trees, welcoming its visitors with clear, fresh air. If you are lucky and arrive when the Rafflesia is in the bloom, it can be easily spotted in the forest!
Adventure at The Long House
If you are interested in learning the customs of the Bidayuh people and how they live, the Annah Rais Long House is where your adventure begins! Buildings, traditional food and even musical instruments are made of bamboo. If you love drinking wine, do not leave without trying out their "Tuak", a fermented rice wine made by the locals. There is also a hot spring nearby. Immersing yourself in this hot spring can help get rid of your tiredness.
Salivating over local delights
Kolo Mee is a must-eat when you come to Kuching. The noodles are boiled, mixed with finely chopped chives, aromatic oil, minced meat, thinly sliced barbeque meat and a few leaves of green vegetables. Simple but impressive. Another must-try food is Laksa, with its spicy and sour taste, as well as Kueh Chap, with its hearty broth filled with slices of pork meat and intestines.
Shopper's paradise
Shopping is another must-do in Kuching. International and local brand seekers are able to enjoy their shopping at Boulevard Shopping Mall, The Spring, Plaza Merdeka, Vivacity, CityONE Megamall Kuching and AEON Mall Kuching. These are the places you can also go for food, entertainment or to get a good book to read.
Heritage walk and food from the "Olden Days"
Main Bazaar is one of the oldest streets in Kucing. You can find a variety of tourist souvenirs there. There is a " Tua Pek Kong" temple which was built more than 20 0years ago, located at the very end of this street. At the other far end of this street stands the regal Old Court House, which was built more than 10 decades ago. Behind the Old Court House is the Central Post Office, a Renaissance-style building. At its side is Carpenter Street, which is fully occuplied by commercial shops. It is like stepping into a time capsule, bringing back memories from an older time in Kuching.
A Leisure walk at the Kuching Waterfront
The Kuching Waterfront is located just opposite the Main Bazaar Street. There is a Chinese Museum located at one end of this waterfront. You will also find a fort full of historical value at the end of this waterfront, called the Square Tower. Alternatively, you can take a "Sampan" boat across the river to indulge in the new " Kampong" ( village-styled) experiences there. You can walk across to the DUN & Fort Astana by Darul Hana Bridge too.
Going local at Satok Wet Market
Visiting local farmer's market is the best place to get to know how the average local lives. Being the biggest weekend market in Sarawak, you can find traders of different races selling various types of goods, vegetables, fruits, handicrafts and local delicacies.