Famous Redang Island, It's All About Beach Beach Beach
Redang Island or Pulau Redang Resort is situated about 22km off coast of Eastern Coast of Malaysia Peninsular, or about 45km from Kuala Terengganu. Redang archipelago constitutes of
9 islands including Pulau Redang, Pulau Paku Besar and Kecil, Pulau Lima and Pulau Pinang.
This group of islands boasts white sandy beaches, spectacular coral reefs and crystal clear waters, making it one of the best dive paradises in the world.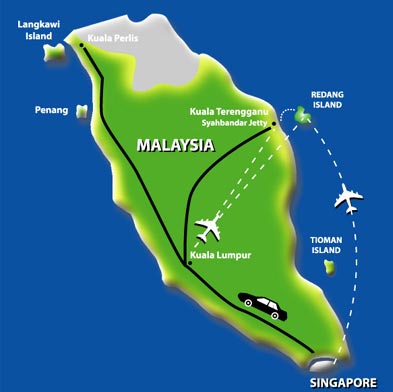 Over the years, Redang Island archipelago has grown to be one of the most popular destinations for tourists and divers due its pristine nature, white sandy beaches, crystal clear blue sea, brilliant nderwater world that abound with marvelous marine fishes, turtles and coral reefs which is perfect for snorkeling and scuba diving. Many Pulau Redang resorts with convenience facility are set up here due to increasing visitors that flock to these islands.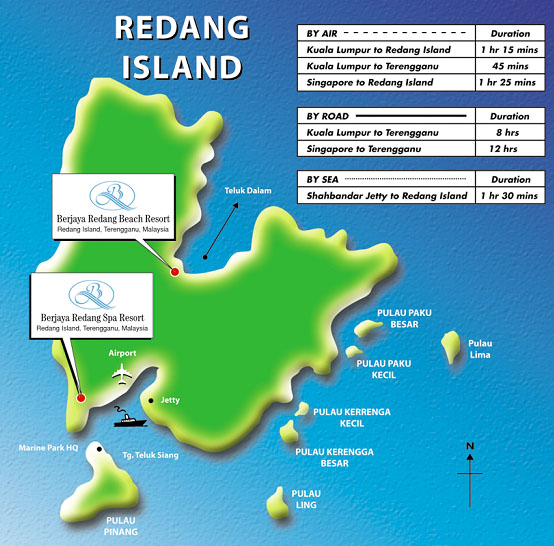 Pasir Panjang Beach : Extremely Beautiful Destination At Redang Island
Redang Island or Pulau Redang is the biggest island of the 9. There are 2 extremely beautiful beaches on this island, namely Pasir Panjang (Long Beach), situated on the east coast and Teluk Dalam Kecil, a sheltered cove tucked away on the northeast of the island.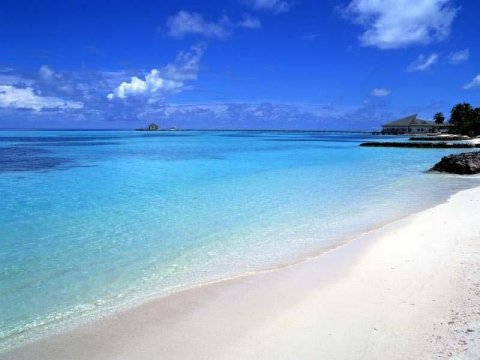 Stretching over 800m, Pasir Panjang is the best beach holiday paradise for sun-seekers, as well as the top destination for snorkels and divers. Underneath the clear blue sky, you can spend hours by basking in the sun, or strolling by the beach and feel the sensation of soft sand sinking under your feet. You can glimpse all kind of sea creatures under the crystal clear sea water, including baby sharks if you are lucky as Pasir Panjang is a nesting bay for baby sharks. There are many great resorts along the Pasir Pangjang beach, offering various styles of accommodation, for example Berjaya Pulau Redang Resort, Redang Holiday Resort, Laguna Redang Resort, Redang Lagoon Resort, Redang Pelangi Resort and Redang Beach Resort.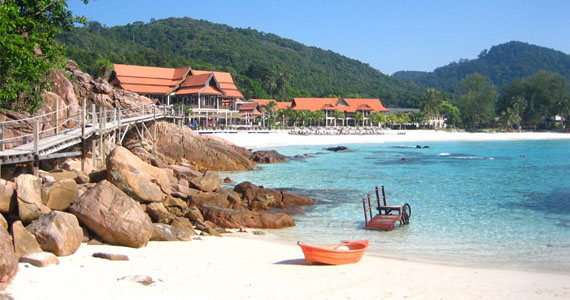 Pulau Redang Marine Park (Redang Island Marine Park)
Another MUST VISIT destination is Redand Island Marine Park, besides enjoying your dream holiday at the Pulau Redang Resort. This group of islands are collectively gazetted as a Marine Park,
although Pulau Pinang is often referred as Redang Island Marine park, partly is because the park headquarter is located here, off the main jetty of Pulau Pinang.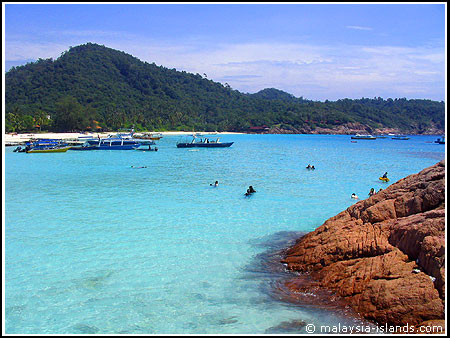 At this Marine Park, a myriad of surprises await beneath the bewitchingly blue sea. The waters teem with a wealth of marine life and corals, and the good visibility makes it ideal for snorkeling and diving. The sea bed holds a magnificent variety of life, including moray eels, giant groupers and clown fish. There is no worry if you don't swim, with life jacket on, you are floating safely on the sea and enjoy a close encounter with the ton of colorful fishes.
There are many wrasses, breams swarm and sergeant majors around snorkelers. Just enjoy yourself
playing with the beautiful fishes. If you extend your hand out with bread on it, many fishes will come close to your hand and try to eat the bread on your palm. This is a wonderful unforgettable experience that you can't get at those Pulau Redang Resorts.
Fishes species that abound here include various kinds of rabbit fish, parrotfish, grouper, scissortail sergeant and the moon wrasse.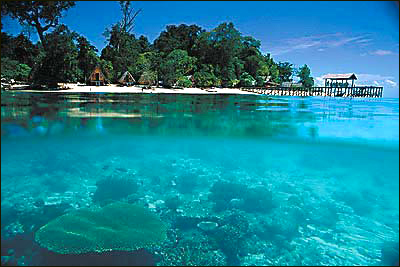 For qualified divers, they can even look forward to thrilling encounters with black-tip sharks as well as rare giant clams and hawk shill turtles. There is also shipwreck close to the jetty which is perfect for exploration through snorkeling. This is the historic shipwrecks of H.M.S Prince of Wales that sank during the WWII at this Redang Island water.Other Activities On Redang Island.
Beside snorkeling and diving on Redang Island, you can also kayak around the island play volleyball
with other tourist on the beach, or enjoy some beer at those Pulau Redang Resorts and make friend
with other tourists that come from around the world.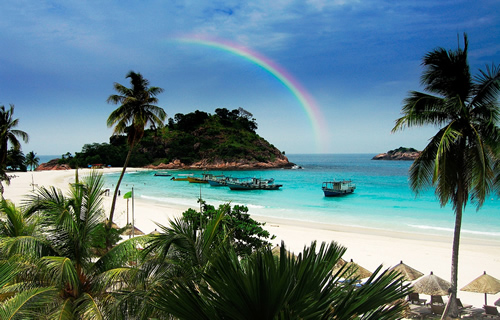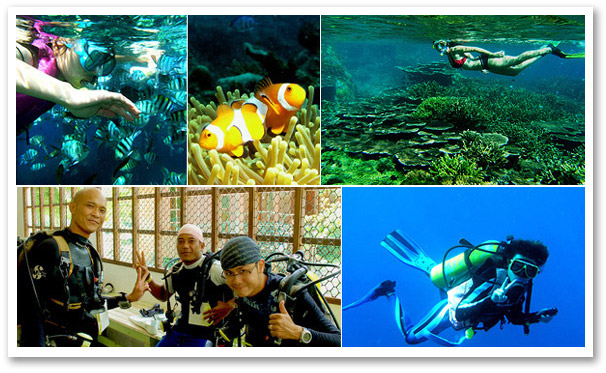 Being a marine park, jet-skis and water-skiing is banned to protect the tranquility and quality of the marine environment and to conserve its coral reefs. Fishing is also banned within 3.2km radius but outside a two-mile boundary around the island, angling is permitted. You are strictly prohibited from collecting any marine life including shells and corals.
Pulau Redang Island Resort: Perfect Holiday Paradise For Total Relaxation
Redang Island with its various famous Pulau Redang Resorts, offers nature lovers an adventure holiday to get away and relax in the solitude and serene beauty of the tropical isles.Nature is at its
best here – fresh air, gleaming soft white sand and crystal clear blue sea, plus the brilliant underwater world that abound with marvelous marine fishes and coral reefs is perfect destination for snorkeling and scuba diving.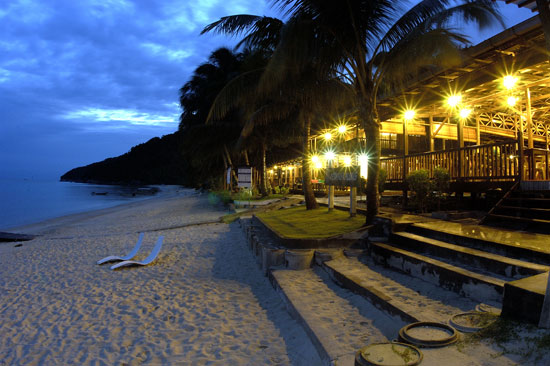 Relax on undefiled and soft white sands, shaded by beautiful palms, overlooking the crystal blue waters of the shimmering Pulau Redang Resort, is indeed a paradise for total relaxation.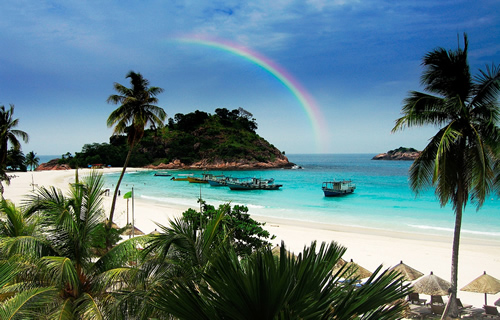 * The best time to visit Redang Island s is between April and October. Most resorts
are closed during the Northeast Monsoon, which blows from November to March.*
Want an enjoyable and unforgettable stay at Pulau Redang?
Check Out
Guaranteed Best Rate Hotels Booking
to secure your best guaranteed lowest price acccomodation at Redang Island.