The Waterfront Hotel Kuching Uncovered
Nestled along the banks of the serene Sarawak River in the heart of the enchanting city of Kuching, Sarawak, stands The Waterfront Hotel Kuching, a true masterpiece that promises an extraordinary stay beyond expectations. With its unparalleled riverside location, impeccable hospitality, luxurious accommodations, delectable culinary offerings, a walking distance from the city's waterfront and proximity to many captivating attractions in Kuching, this iconic hotel beckons travelers from far and wide to immerse themselves in the charms of Borneo.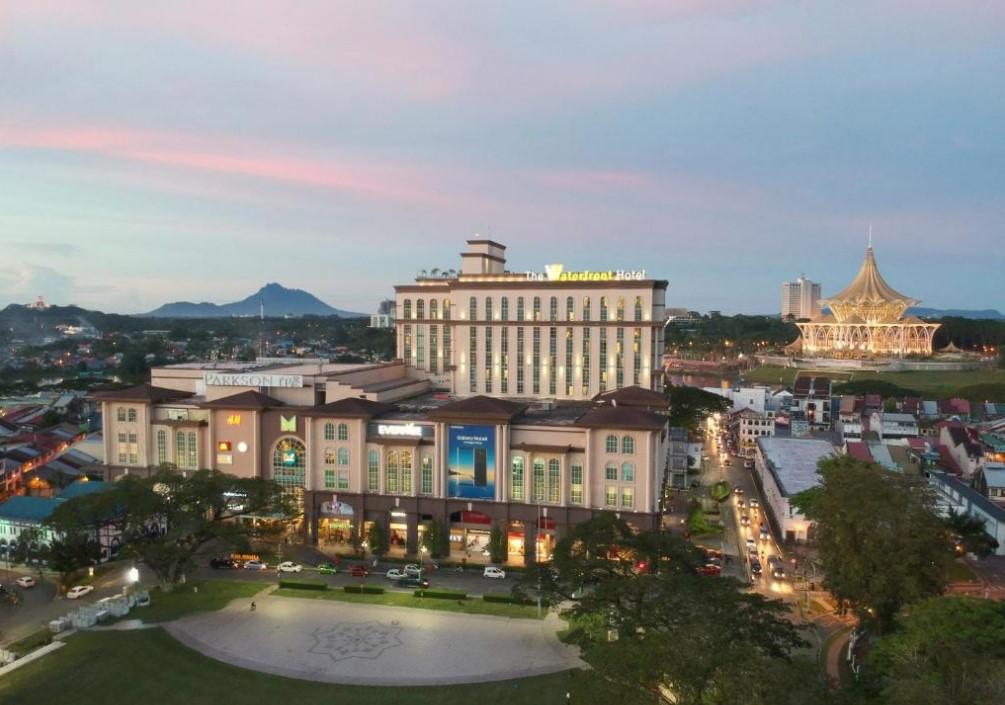 In this comprehensive guide, we unveil the captivating allure of The Waterfront Hotel Kuching, providing an ultimate resource for visitors seeking an unforgettable experience in Sarawak's capital city to ensure a journey that is nothing short of extraordinary.
Check out others top 5-stars hotels in Kuching, such as Cove 55, Pullman Kuching, Hilton Kuching Hotel.
Location and Accessibility
The Waterfront Hotel Kuching is strategically situated at 68 Jalan Tun Abang Haji Openg, just a 20-minute drive from Kuching International Airport. Its convenient location allows guests to easily access the city's key landmarks, cultural treasures, and vibrant attractions. Upon landing at the airport, visitors can reach the hotel by various means of transportation:
Airport Transfer Service: The Waterfront Hotel Kuching offers airport transfer services upon request. Guests can pre-arrange this hassle-free service to be greeted by a friendly driver and comfortably transported to the hotel.
Taxi: Taxis are readily available outside the airport terminal. Travelers can choose to hail a taxi directly or approach the taxi counter inside the airport to arrange for a ride to the hotel.
Ride-Sharing Apps: Popular ride-sharing apps like Grabare operational in Kuching, making it convenient for guests to book a ride to The Waterfront Hotel with just a few taps on their smartphones.
Car Rental: Travelers seeking the freedom to explore beyond the city can rent a car from various car rental services available at the airport.
The Waterfront Hotel Kuching is a great choice for travelers who are looking for a luxurious and convenient stay in Kuching. The hotel's location is perfect for exploring the city, and the hotel's amenities are sure to make your stay enjoyable.
Luxurious Accommodations for Every Discerning Traveler
With total 208 modern guest rooms, including 31 suites and 2 loft suites, The Waterfront Hotel Kuching presents an array of opulent accommodations, meticulously designed to cater to the diverse needs of its guests. Each room and suite boasts modern amenities, elegant decor, and comfortable furnishings to ensure a restful stay for all. Whether visitors seek a tranquil haven for relaxation or a lavish suite for a special occasion, this hotel has something to offer for everyone.
Type of Rooms Available in The Waterfront Hotel Kuching
Deluxe Rooms (Compound View)
For those seeking a touch of indulgence, the Deluxe Rooms (compound view) offer ample living space and luxurious amenities. Few types of Deluxe rooms are available for selection, such as Deluxe Twin, Deluxe King or Deluxe Family. Each room features either a plush King-sized or twin Queen-sized bed and a private en-suite bathroom, providing the perfect haven for relaxation. Additionally, guests can enjoy in-room facilities, such as a mini-fridge, coffee and tea-making facilities, and plush bathrobes.
Premier Rooms
Equipped with elegant furnishing and exquisite decoration, the Premier Rooms elevate the experience to a new level of luxury. In addition to the lavish bedroom and en-suite bathroom, guests enjoy exclusive access to the Executive Lounge, where complimentary breakfast and evening cocktails await. The Premier Rooms offer a separate living area for relaxation and provide an enhanced sense of space and comfort.
Several types of Premier rooms are available for selection, such as Premier Twin, Premier King, Premier or Deluxe Family.
Premier Twin with City View or River View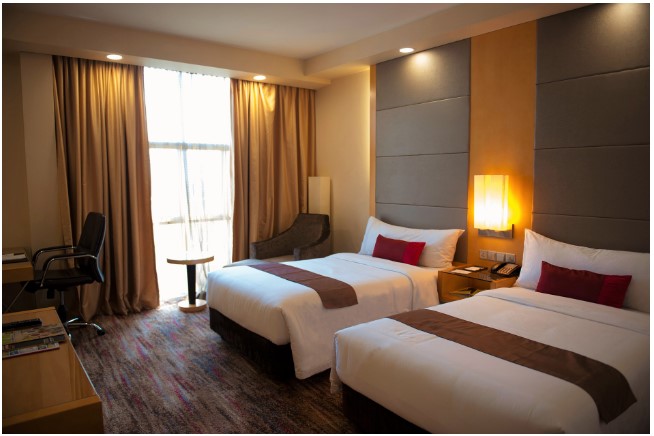 Premier King and Premier Family with City View or River View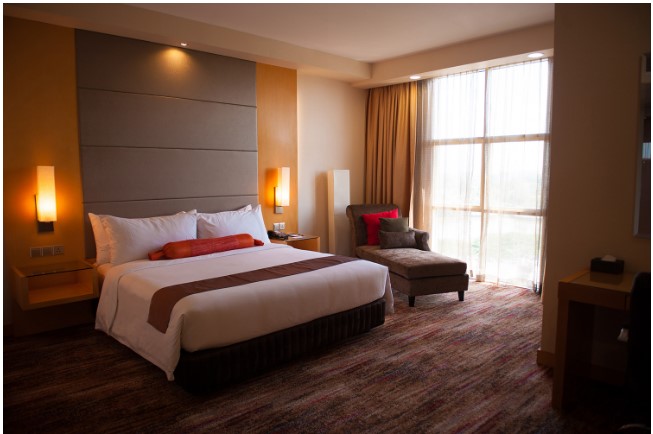 Club Floor with City View or River View
The Club Floor is the perfect choice for guests who want to experience the best that the hotel has to offer, extra luxury and tranquility. Best suited for business traveler and family. This exclusive room at the hotel's highest 2 floors offers guests a number of benefits, including complimentary breakfast and exclusive evening cocktails in the Iridium Lounge, access to the Club Floor lounge, which offers stunning views of the Kuching Waterfront, priority check-in and check-out and complimentary laundry service etc.
The Club Floor rooms themselves are spacious and luxurious, with all the amenities you need for a comfortable stay. They also come with a number of exclusive extras, like Nespresso machine, welcome fruit basket and a minibar stocked with complimentary drinks.
Club Floor Twin, Family and King (City View or River View)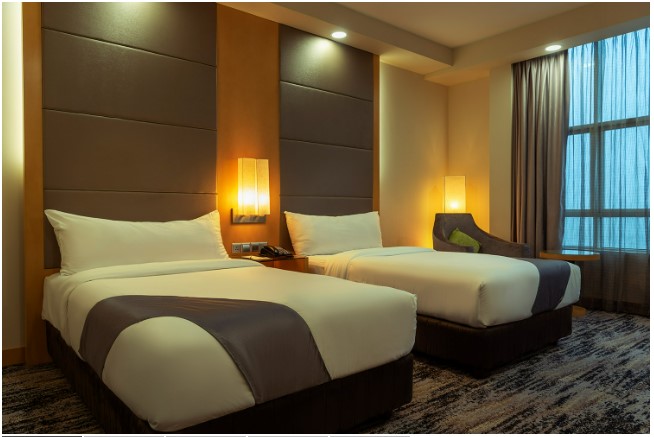 Suites
The Waterfront Hotel Kuching's suites redefine opulence. With separate living and dining areas, lavishly designed bedrooms, and private balconies overlooking the Sarawak River, these suites create an atmosphere of indulgence and comfort. Suites feature a plush bedroom with a king-sized bed, and a luxurious en-suite bathroom with a bathtub and shower. Guests in suites receive personalized services, including a private check-in, access to the Executive Lounge, and other exclusive privileges.
Premier King Suites with City View or River View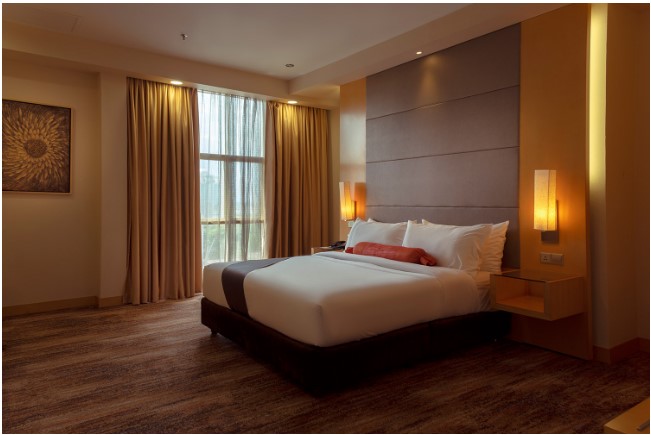 Premier King Suite with 2 Bedrooms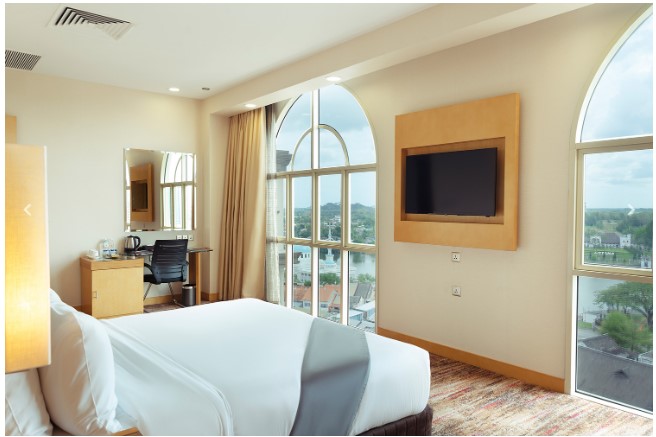 Club Floor King Suite (City View)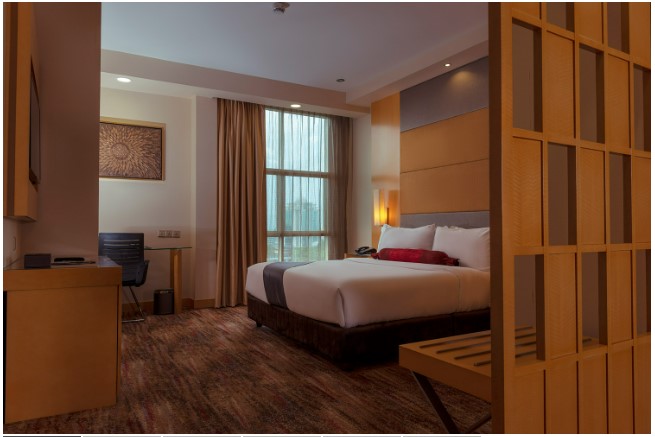 Club Floor 2 Bedrooms Suite (River View)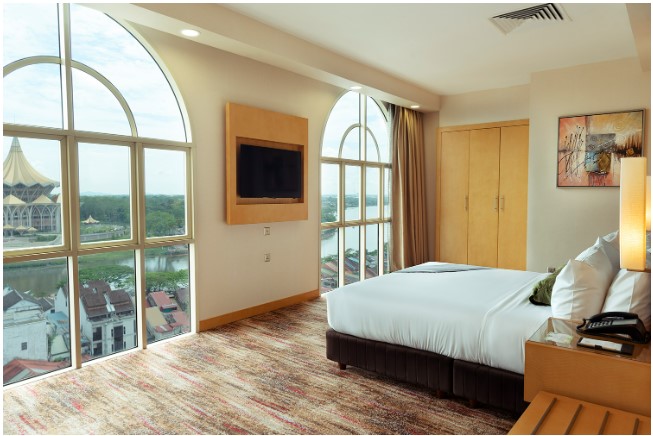 Brooke's Loft Suite
Experience pure indulgence in the heart of Kuching with Brooke's Loft Suite at The Waterfront Hotel. This spacious 2-bedroom 2-storey loft suite, spanning 1,120 square feet across the 18th and 19th floors, offers stunning views of the waterfront and city skyline. With a king-size bed in one room, a queen-size bed in the other, and a living room with a sofa bed, it's perfect for up to 4 adults or 4 adults and 2 children. Enjoy perks like a Nespresso machine, private printer, and exclusive access to the Iridium Lounge, coupled with full Club Floor benefits.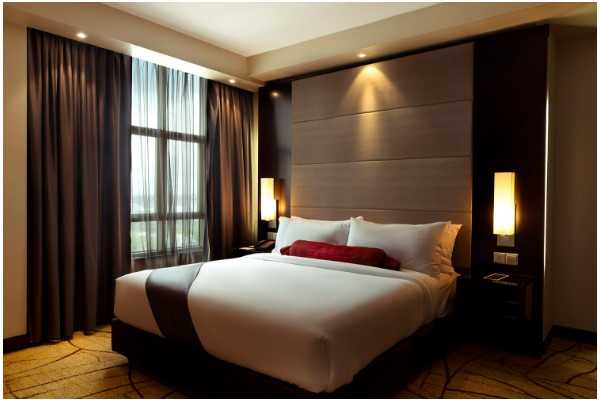 Starting from MYR 1,200 per night, elevate your stay with unparalleled luxury and panoramic vistas. Enjoy the warm sun rays while you lounge by the window in the living room during the day and watch the city lights brighten up as the sun sets below the mountains when night falls.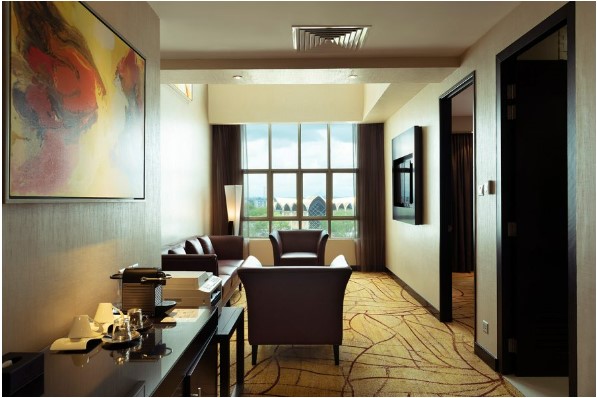 Whether you are traveling for business or pleasure, Brooke's Loft Suite is the perfect place to stay in Kuching. The spacious accommodations, luxurious amenities, and stunning views make it the perfect place to relax and unwind after a long day of exploring the city.
Nisa Addina Suite
Discover the harmonious blend of a hotel's services and the comforts of home in our lavish Nisa Addina Suite at The Waterfront Hotel Kuching. Named after Sarawak's young violinist sensation, this two-storey suite embodies her musical spirit. Gaze upon the Sarawak River from the suite's private balcony, elegantly furnished with a king-size bed, a living room with a sofa bed and design elements inspired by Nisa Addina's passion for music.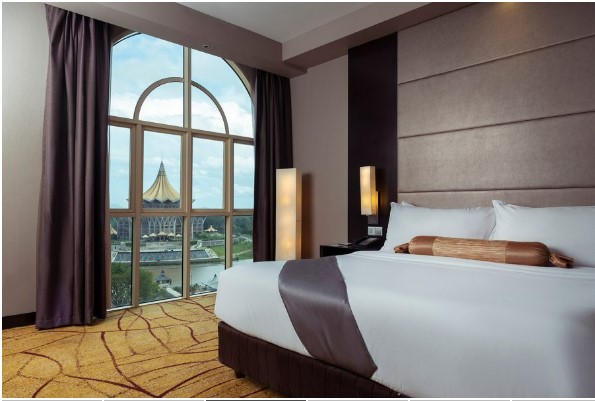 Guests will also have exclusive access to the Iridium Lounge for business affairs or to enjoy undisturbed quiet moments alongside impressive views of the Kuching Waterfront and city center. Revel in perks like a Nespresso machine, private printer, and accompanied by full Club Floor benefits. From early check-in to late check-out, every detail is curated for your utmost satisfaction. Starting from MYR 1,338 per night, let the Nisa Addina Suite become your sanctuary of luxury and tranquility.
Iridium Lounge in The Waterfront Hotel Kuching
For Guests who are entitled to Clulb Floor Privilege, here are the full CLUB FLOOR BENEFITS:
Full access to the Iridium Lounge (opens daily from 7am to 10.30pm). With following services daily:
Afternoon Tea Break: 1.00 pm – 4.00 pm
Sunset Evening Happy Hour: 5.00 pm – 7.00 pm
All-day coffee & tea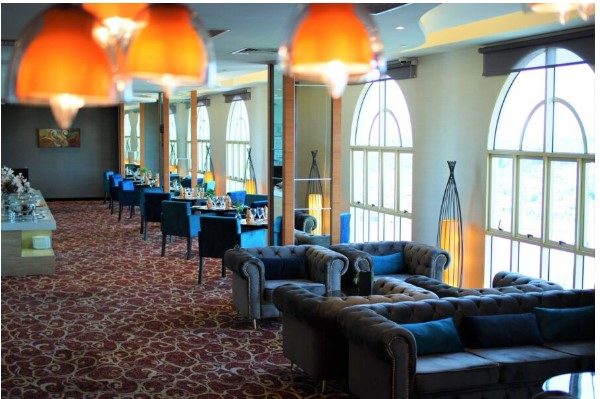 Exclusive private check-in and express check-out at the Iridium Lounge
Complimentary return airport transfer, limited to 2 person.
(Available from 8am to 8pm daily.)
Complimentary use of workstation in the Iridium Lounge and the business centre at Level 5
Complimentary soft beverages included in each room's minibar per stay
The daily newspaper delivered to your doorstep
Night Turndown service
Exclusive discount of 20% on laundry services
Complimentary 2 (two) pieces of pressing per room per day
Full exclusive set of amenities
Embracing Culinary Excellence in The Waterfront Hotel Kuching
A stay at The Waterfront Hotel Kuching is incomplete without savoring the culinary delights offered within its premises. The Waterfront Hotel Kuching itself houses an exquisite restaurant, River Palace, renowned for its sumptuous Chinese cuisine that tantalizes the taste buds and Cafe Via Mare that serves international buffet.
River Palace: Indulge in a gastronomic journey at River Palace, the hotel's renowned Chinese restaurant. The elegant ambiance sets the stage for an unforgettable dining experience, where guests are treated to an array of authentic Cantonese and Szechuan dishes, expertly prepared by skilled chefs. From traditional dim sum delights to delectable seafood specialties, River Palace promises an exceptional culinary adventure for every palate.
Cafe Via Mare: Cafe Via Mare offers a delightful setting for casual dining, featuring an extensive menu of local and international dishes. Guests can enjoy buffet-style breakfast, lunch, and dinner, showcasing a diverse selection of flavors and cuisines. The outdoor terrace provides an enchanting spot to relish meals while overlooking the picturesque Sarawak River.
Local Culinary Delights
Your trip to Kuching will never be satisfied without trying some unique Sarawak local food. Due to the Waterfront Hotel Kuching's strategic location in the city, there is no problem for you to enjoy local food delights easily. Nearby, Top Spot Food Court presents a delightful mix of local delicacies, where seafood dishes are an absolute must-try. Adventurous foodies can head to Carpenter Street, where a plethora of hawker stalls offer diverse Sarawakian street food, such as Sarawak Laksa and Kolo Mee.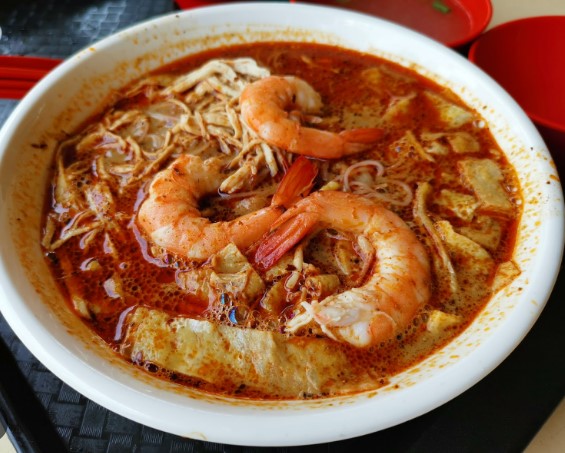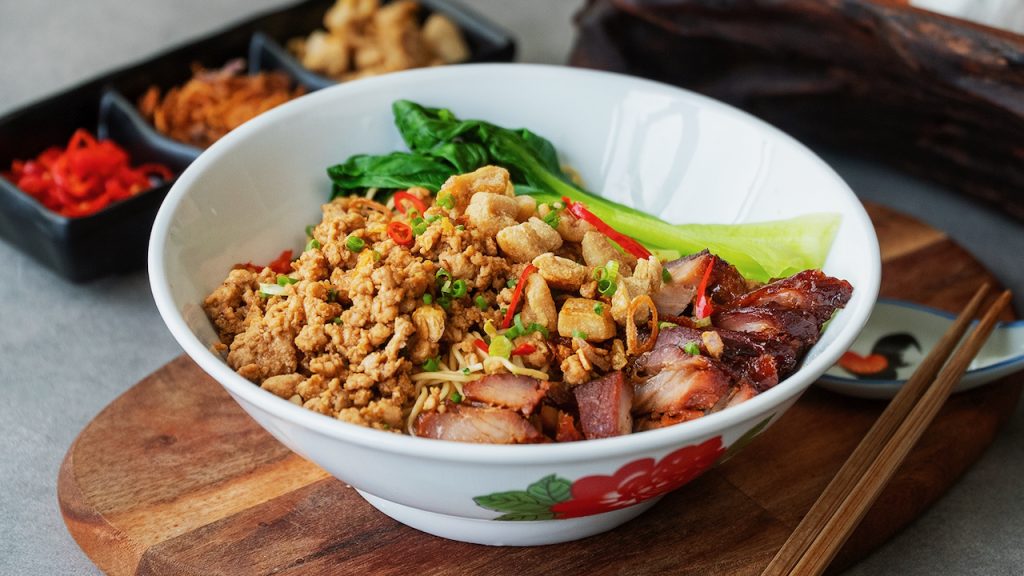 Immersing in Local Delights and Shopping Splendors
For guests who like to shop, the Waterfront Hotel Kuching's strategic location places them in close proximity to a vibrant array of shopping spots to hunt for local souvenirs and international products.
Adjacent to the hotel, visitors can explore the Sarawak Plaza Shopping Complex, where an assortment of retail outlets offers a blend of international brands and local crafts.
A short walk leads to Riverside Shopping Complex, perfect for fashion enthusiasts seeking the latest trends.
For a taste of authentic Sarawakian souvenirs, guests can venture to Main Bazaar, the oldest street in Kuching, renowned for its antique shops and handicrafts.
Unveiling Kuching's Treasures: Nearby Attractions
Kuching is a modern city with rich culture. The Waterfront Hotel Kuching is conveniently located near a myriad of attractions that showcase the city's rich cultural heritage and natural splendor. Some of them are just a stone-throw distance from the hotel.
Sarawak River Cruise
It just a 3 mins walk from the Waterfront Hotel Kuching. Embark on a memorable river cruise to witness Kuching's iconic landmarks from the water, offering a unique perspective of the city's beauty. The Sarawak River Cruise takes guests on a scenic journey along the river, passing by the Astana, Fort Margherita, and the city's stunning waterfront.
Sarawak Museum
Immerse yourself in Sarawak's history and culture at the Sarawak Museum, housed in a striking colonial-style building. The museum's extensive collection of artifacts, exhibits, and galleries provides valuable insights into the diverse heritage and traditions of the region.
Kuching Waterfront
Take a leisurely stroll along the Kuching Waterfront, a vibrant promenade teeming with cafes, eateries, and local street performers. The walkway stretches from the picturesque Chinese History Museum to the iconic Charles Brooke Memorial Clock Tower, offering visitors a chance to absorb the city's lively atmosphere.
Sarawak Cultural Village
Experience the diverse cultures of Sarawak at the Sarawak Cultural Village, a living museum that showcases traditional longhouses of various ethnic groups. Visitors can immerse themselves in the customs, rituals, and lifestyles of the indigenous communities and participate in engaging cultural performances.
Bako National Park
Bako National Park: For nature enthusiasts, a visit to Bako National Park offers the chance to encounter diverse flora and fauna, including the famed proboscis monkeys. The park features a network of trails leading to stunning beaches, hidden coves, and breathtaking viewpoints, making it a must-visit destination for adventure seekers.
Unwind and Rejuvenate in The Waterfront Hotel Kuching
After a day of exploration, guests can rejuvenate their senses at the hotel's wellness facilities.
The Waterfront Spa
Surrender to bliss at The Waterfront Spa, where skilled therapists offer a range of rejuvenating treatments using natural ingredients and traditional techniques. From soothing massages to revitalizing facials, the spa provides an oasis of tranquility, allowing guests to unwind and achieve a sense of harmony.
Infinity Pool
The hotel's infinity pool overlooking the Sarawak River provides the perfect setting to relax and bask in the beauty of the surroundings. Guests can indulge in leisurely swims or lounge by the poolside, soaking up the warm tropical sun.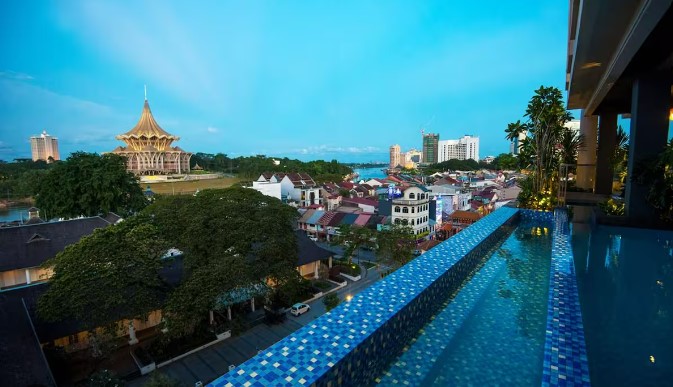 Tips for a Memorable Stay: Insider's Advice
To ensure an unforgettable experience at The Waterfront Hotel Kuching, here are some valuable tips to consider:
Local Customs and Etiquette
Embrace local customs and traditions to immerse yourself fully in the rich Sarawakian culture. Respectful attire and behavior are appreciated when visiting religious sites and cultural attractions.
Weather Considerations
Check the weather forecast before your trip to pack accordingly, as Kuching experiences tropical weather throughout the year. Lightweight clothing, comfortable footwear, and sun protection are essential for a pleasant stay.
Exploring the City
Kuching is best explored on foot, so pack comfortable walking shoes and allow yourself to wander through its charming streets and alleys. The city's compact layout makes it easy to navigate and discover hidden gems at every turn.
Sampling Local Delicacies
Don't miss the chance to indulge in Sarawak's famous street food, such as Sarawak Laksa, Kolo Mee, and Sarawakian layered cakes. Venture into the bustling hawker centers and food stalls to savor the authentic flavors of the region.
Safety and Security
Kuching is generally a safe city, but it's always wise to exercise caution and keep valuables secure while exploring public areas. It's advisable to carry a copy of important documents and leave the originals in a safe place at the hotel.
The Waterfront Hotel Kuching Experience: Testimonials and Reviews
What other says about staying experience in The Waterfront Hotel Kuching (reviews are from actual tourists' review from TripAdvisor.com):
"This hotel was amazing! The staff were so friendly and helpful, and the room was spacious and comfortable. We had a great view of the river, and the bed was so soft and comfortable. We also loved the breakfast buffet, which had a wide variety of food to choose from. We would definitely stay here again!" by Jonn and Mary Smith, USA.
"We had a wonderful stay at The Waterfront Hotel Kuching. The hotel is beautifully located right on the river, and the views from our room were amazing. The staff were very friendly and helpful, and the room was spacious and comfortable. We also really enjoyed the breakfast buffet, which had a great selection of food. We would definitely recommend this hotel to anyone visiting Kuching." by David and Sarah Jones, UK
Final Thoughts: Embracing the Riverside Splendor
A stay at The Waterfront Hotel Kuching promises an extraordinary journey that transcends expectations. From its enchanting riverside location and luxurious accommodations to the vibrant cultural scene and tantalizing culinary experiences, every facet of this iconic hotel is designed to ensure an unforgettable adventure in Sarawak's capital city. Immerse yourself in the unique blend of tradition and modernity, relish the beauty of the Sarawak River, and allow The Waterfront Hotel Kuching to be your gateway to an unparalleled escape.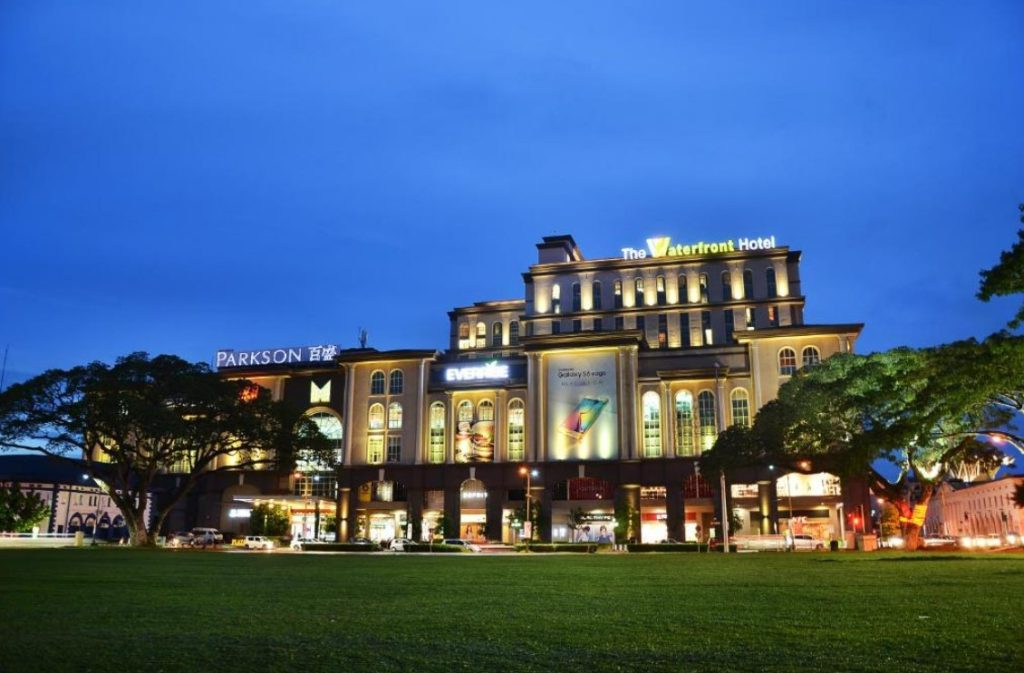 Is this hotel that you are looking for in Kuching? Check out the latest promotional price for the Waterfront Hotel Kuching and grab the great discount offer here:
Frequently Asked Questions (FAQ)
1. Is The Waterfront Hotel Kuching suitable for families?
Yes, the hotel is family-friendly, and families can opt for interconnecting rooms for added convenience.
2. Does the hotel offer shuttle services to nearby attractions?
Yes, the hotel provides shuttle services to popular landmarks and attractions in Kuching.
3. Are pets allowed at The Waterfront Hotel Kuching?
Unfortunately, the hotel does not permit pets on the premises.
4. Is there a fitness center at the hotel?
Yes, The Waterfront Hotel Kuching features a well-equipped fitness center for guests to stay active during their stay.
5. Does the hotel have facilities for business travelers?
Yes, the hotel offers a business center and various meeting and conference rooms for business travelers.
6. Is Wi-Fi available throughout the hotel?
Yes, complimentary Wi-Fi is accessible in all rooms and public areas of the hotel.
7. Does The Waterfront Hotel Kuching have a spa?
Yes, the hotel boasts a luxurious spa where guests can indulge in rejuvenating treatments.
8. What are the check-in and check-out timings?
Check-in time is at 2:00 PM, and check-out time is at 12:00 PM.
9. Is there a pool at The Waterfront Hotel Kuching?
Yes, the hotel features a beautiful outdoor pool overlooking the river.
10. Are airport transfers available?
Yes, airport transfers can be arranged upon request for a hassle-free arrival and departure experience.
Do Make Sure to check out our most comprehensive introduction of all types of unique hotels in Kuching here.