The Cherry Blossom is breathtaking one in Japan. The Japan Meteorological Agency has released the cherry blossom forecast for this year, so it is time to plan your hanami (Sakura flower viewing) trip to Japan.
This year, it is expected Sakura will arrive earlier than previous year across Japan. Cherry blossom will start from warmer south in about 20th of March, and bloom northward all the way to Hokkaido in May. The forecast predicted that Cherry Blossom will be 1st in full bloom on 25Marh in Kochi, and Tokyo, Fukuoka on 29 March, Kyoto on 2 April, Osaka on 3 April, Aomori on 28April and Sapporo on 8 May.
So where are the Top 10 Places to see Cherry Blossom in Japan?
TOP 10 Spots To See Cherry Blossom in Japan
TOKYO
There are many gorgeous sakura-viewing spots in Tokyo. You can even enjoy the breathtaking Cheery Blossom view when you are walking on the streets or strolling through the parks in Tokyo. And the following is a list of the best places to see Cherry Blossoms in Tokyo:
1. Shinjuku Gyoen National Garden
2. Chidorigafuchi
3. Ueno Park
4. Megurogawa
5. Sumida Park in Taito-ku
6. Yoyogi Park
7. Koishikawa Korakuen Gardens
Tokyo Shijuku Gyoen
Shinjuku Gyoen (新宿御) is a national garden located in the center of Tokyo and can be easily access through JIR Shiinjuku. With more than 1000 cherry trees of various types in this huge garden, couple with it's tranquil atmosphere, Shinjuku Gyoen is probably the best hanami spots in the heart of this city. Thanks to the early and late blooming trees, Shinjuku Gyoen is a good hanami destination for those who miss the main season by a week or two.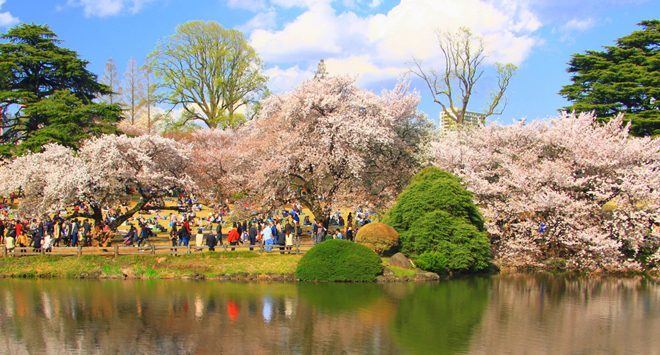 The other popular hanami spot in Tokyo is Chidorigafuchi. This garden not only has very beautiful Sakura view, but also provides a romantic environment for dating where couple can have a boat ride under the cherry trees.
AIZURU PARK, FUKUOKA
Fukuoka is the popular hanami spot in Southen Japan island of Kyushu. Famous spots in Fukuoka including Maizuru Park, Katsuyama Park, Nishi Park etc..
The most popular one is Maizuru Park, where the Castle Sakura Festival will be held every year during Cherry Blossom time. It is estimated there are about thousand of Yoshino cherry trees and weeping cheery trees in Maizuru Park, which are surrounding the Fukuoka Castle. During this festival, many food stalls and various activities are held here to entertain visitors while they enjoying the beauty of the Sakura. The cherry tress are beautifully lit up at night.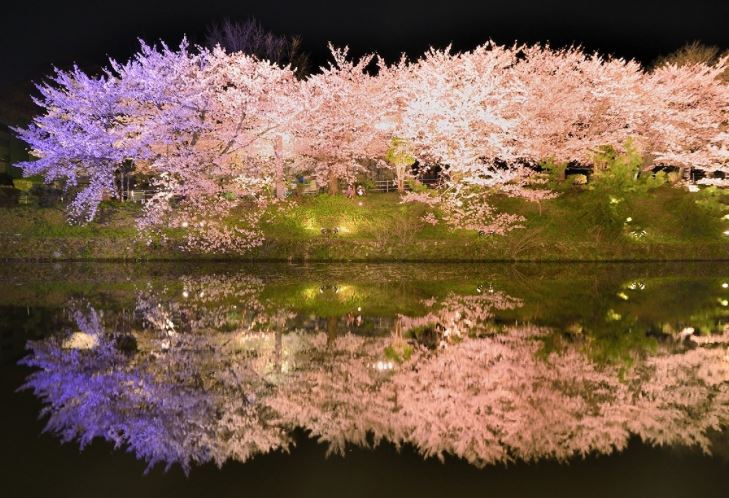 In fact, this park is not only an awesome place for cherry blossom viewing, but also a place where many historically important buildings are situated, for example Korokan House, Heiwadai Baseball Stadium and of course the Fukuoka Castle.
SENKO-JI TEMPLE, HIROSHIMA
If you are in Hiroshima, do not miss the Hanami at Senko-Ji Temple, which has plenty of cherry tress as well as Yaezakura and Yoshino cherry trees. The temple provides kind of tranquility compare to other sakura hotspot which usually is crowded with visitors. You are also able to have a panoramic view of the surrounding blossoms and also a view of Seto Inland Sea from the roof top observation deck.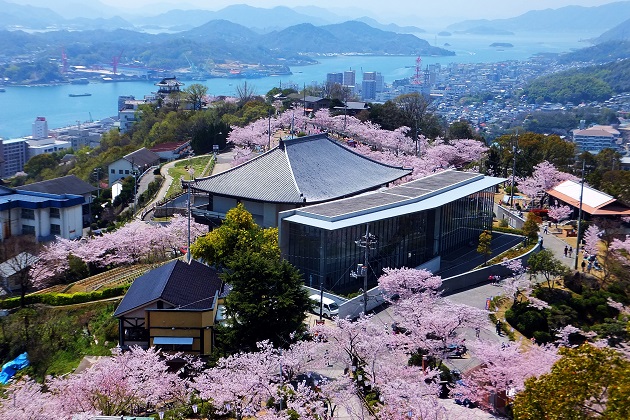 Other famous sakura hotspots in Hiroshima are inclusive of Itsukushima Shrine and Ondo-no-seto Park
JAPAN MINT, OSAKA
Yes, you are right, this is the government office that produce and circulating coins, the Japan Mint. The good thing about this government office is that it has garden that cultivated with various very rare types of cherry trees, including light green, light pink, white etc making it the must visit hanami spots for sakura lovers.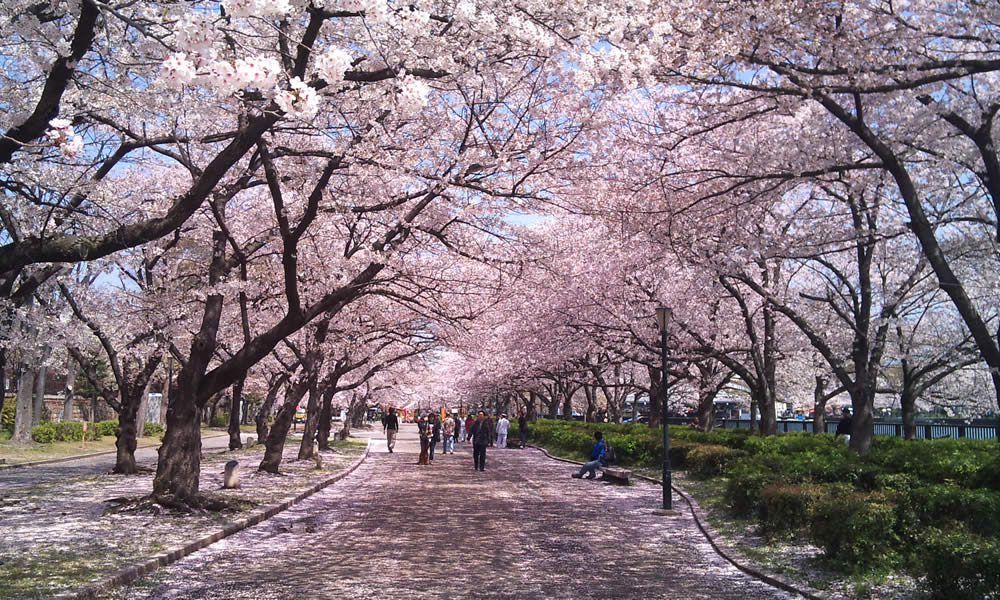 Where to stay: City Plaza Osaka
Hirosaki Castle Park, Aomori
Situated in Amori prefecture at the northen part of Honshu Island, Hirosaki Castle park is touted as the most impressive hanami spot in Tohoku region.
With about 2500 cherry blossom trees in this park that set against the white walls of the Hirosaki Castle, the cherry blossom view is truly awesome. Not to forget the view of Mount Iwaki from this castle ground is also amazingly stunning. No doubt this place is considered at the the best place to shoot cherry blossom in Japan.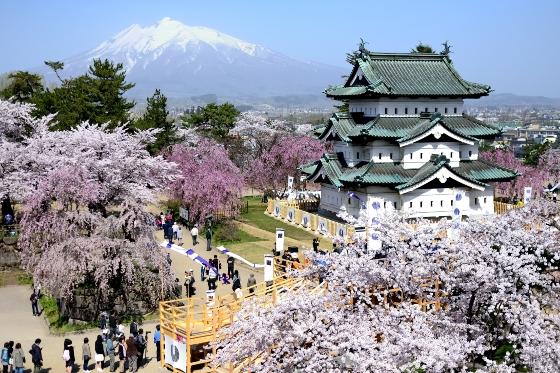 The other popular attraction here is the famous Hirosaki Cherry Blossom Festival that attracted plenty of visitors to Aomori each year during spring time. Beside hanami, you can choose to have fun and enjoy more pleasant cherry blossom viewing by hopping to a boat that run through the moats, making your cherry blossom trip even more memorable.
GOJO RIVER, NAGOYA
There are many places to participate in the Cherry Blossom festival in Japan, but the one that is really impressive is the traditional cherry blossom festival held at the scenic Gojo River in Iwakura city. Visitors has ton of reason to enjoy the festive atmosphere here.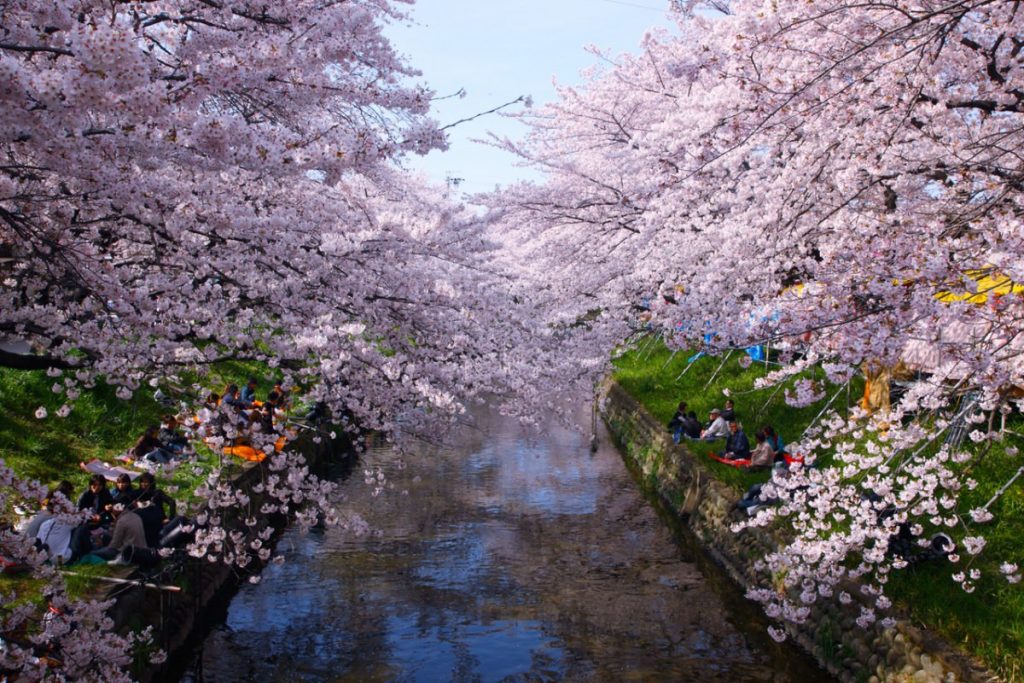 Other that here, places like Togokusan Fruit Park, Nagoya Castle, Yamazaki River also very popular as a hamami hotspot in Nagoya.
Hanamiyama Park
Hanamiyama Park is actually a private garden owned by Abe family. It is situated on a hill slopes at Fukushima City. The park has a plethora of cherry trees, golden-rayed lilies, azaleas and hydrageas, making the park looks so amazingly beautiful during spring, when cherry blossoms together with plum and all other flowers at the same time. With the snow white Azuma mountains at a distant as the background, the sea of pink from these blossom cheery and plum tress is really an instagramable view.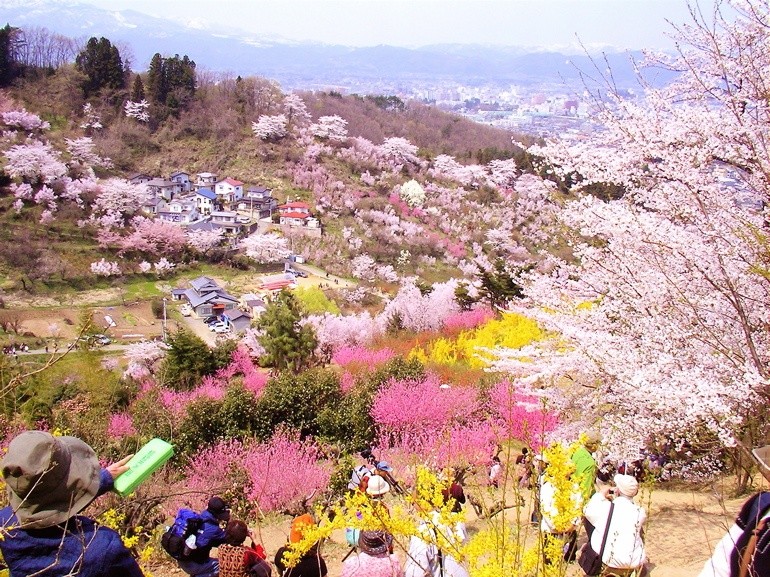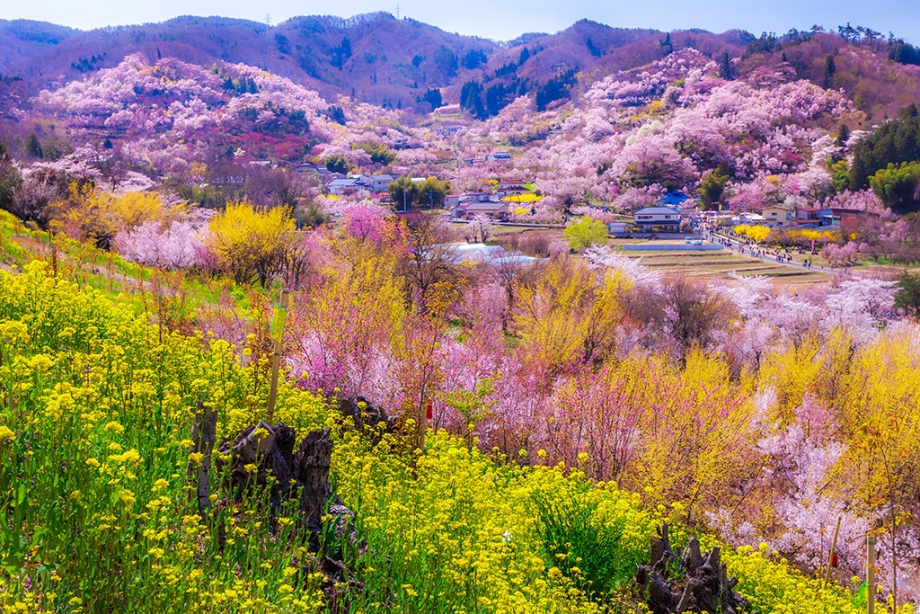 Where to stay: Best Hotels to stay at Hanamiyama Park
Himeji Castle
Himeji Castle Hyogo prefecture is the largest castle in Japan and is an UNESCO World Heritage site. The Meiji Restoration is one of the few original feudal that is s survived in Japan. Himeji Castle is surrounded by about 1,000 sakura tress,making its a great historical place to visit and at the same time the good place to see Cherry Blossom in Spring.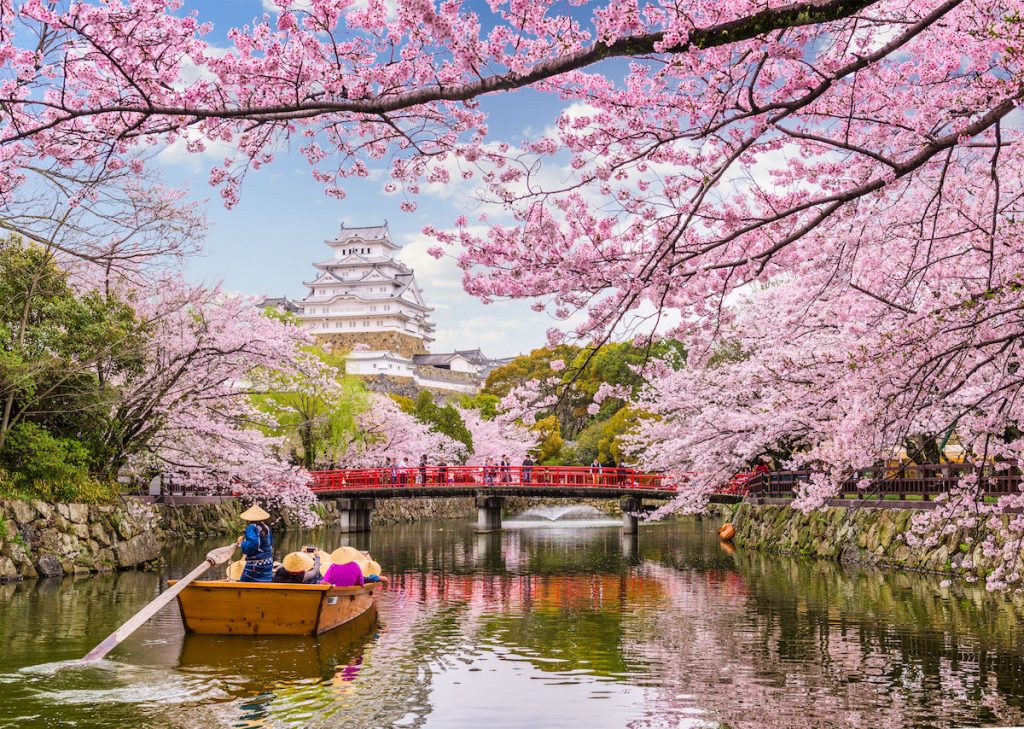 During spring, with the dense sakura trees surrounding the Castle with etherial white walls, it looks that the castle is floating on a pink fluffy clous of cherry blossoms, making it the most pictorial cherry blossom scene in Japan. Furthermore, the yearly Himeji Castle Cherry Blossom Viewing Festival with it's spactacular music performance, making the cherry viewing here even more enjoyable. No doubt Himeji Castle was touted as one of the Top 3 cherry blossom viewing spot in Japan.


Kawaguchiko Lake
If you want to take stunning cherry blossom view with Mount Fuji as backdrop, head to the ntorthern shore of Kawaguchiko. The view here offers magnificent sight of the majestic Mount Fuji in combination with the lake and cherry blossoms.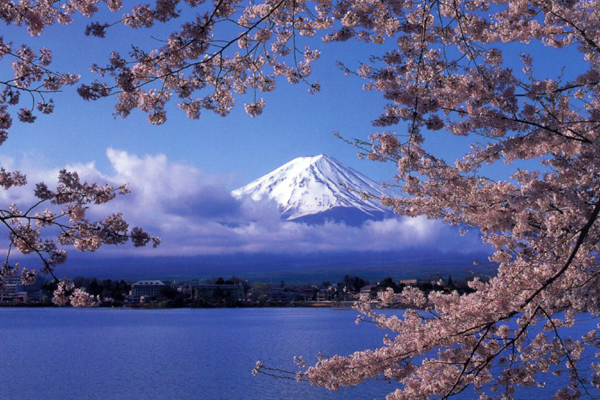 The best view usually is in the morning. The two best spot to take Mount Fuji picture is at the lakeside promenade around the Kawaguchiko Music Forest and the small Ubuyagasaki peninsula next to the Kawaguchiko Ohashi Bridge. Get some good shot here.
20-KEN ROAD OF SHIZUNAI, HOKKAIDO
If you miss the Cherry Blossom that fully blossom in March and April, Hokkaido will be the last place you can ctach the show. There are many sakura hotspots in Hokkaido, including Maruyama Park, Shizunai, Goryokaku Park and Matsumae Park.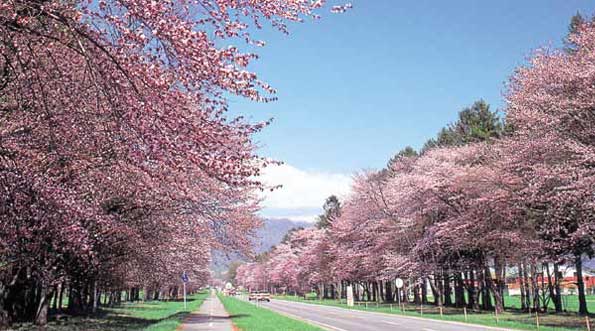 The one that is most famous is 20-Ken Road at Shizunai, where there are estimated 3,000 cherry trees are lining up a 7km road in Shinhidaka. The cherry view is superb.
Where to stay: Premier Hotel Nakajima Park Sapporo