Kuching Most Prestige Luxury Hotels Experience
Kuching, the Jewel of Borneo, is a city that whispers tales of elegance and sophistication, where luxury finds its home amidst the rich cultural tapestry of Borneo. In this guide, we delve into the epitome of sophistication and indulgence, by exploring the the top-most extravagant and luxury Kuching 5 star hotel.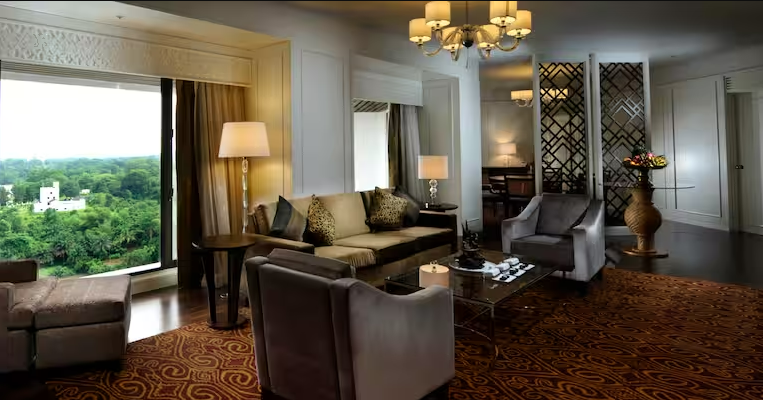 In our exploration of this vibrant city, we unravel the secrets of Epicurean Elegance through these exquisite accommodations that redefine indulgence. Join us on this journey as we venture into the lap of luxury, where comfort, style, and impeccable service redefine the art of hospitality. Prepare to be enchanted by the allure of Epicurean Elegance as we unravel the treasures hidden within these most opulent Kuching 5 Star hotel.
The Essence of Epicurean Elegance
Before we embark on our luxurious journey, let's understand the essence of Epicurean Elegance in hospitality. It's more than just lavish decor and high-end amenities; it's a holistic experience that stimulates all senses. It's the harmonious fusion of luxurious amenities, exceptional service, and culinary artistry. In Kuching, this concept comes to life through impeccable service, exquisite dining, and unparalleled comfort, setting the stage for an unforgettable stay and is beautifully captured in its 5-star luxury hotels, where every moment is designed to indulge and enchant.
Top 6 Luxury Kuching 5 Star Hotel
We are exploring the top 6 luxury 5-Star hotels in Kuching in this article. These include Cove 55 Kuching, Pullman Hotel Kuching, Hilton Kuching Hotel, The Waterfront Hotel Kuching, Astana Wing-Riverside Majestic Hotel and Puteri Wing – Riverside Majestic Hotel.
Cove 55 Kuching
Our first stop on this extravagant escapade is the illustrious Cove 55 Kuching. Nestled amidst lush greenery and overlooking the serene South China Sea, this hotel defines tranquility and sophistication. With meticulously designed rooms featuring panoramic views, private balconies, and plush furnishings, Cove 55 offers an intimate ambiance that redefines luxury.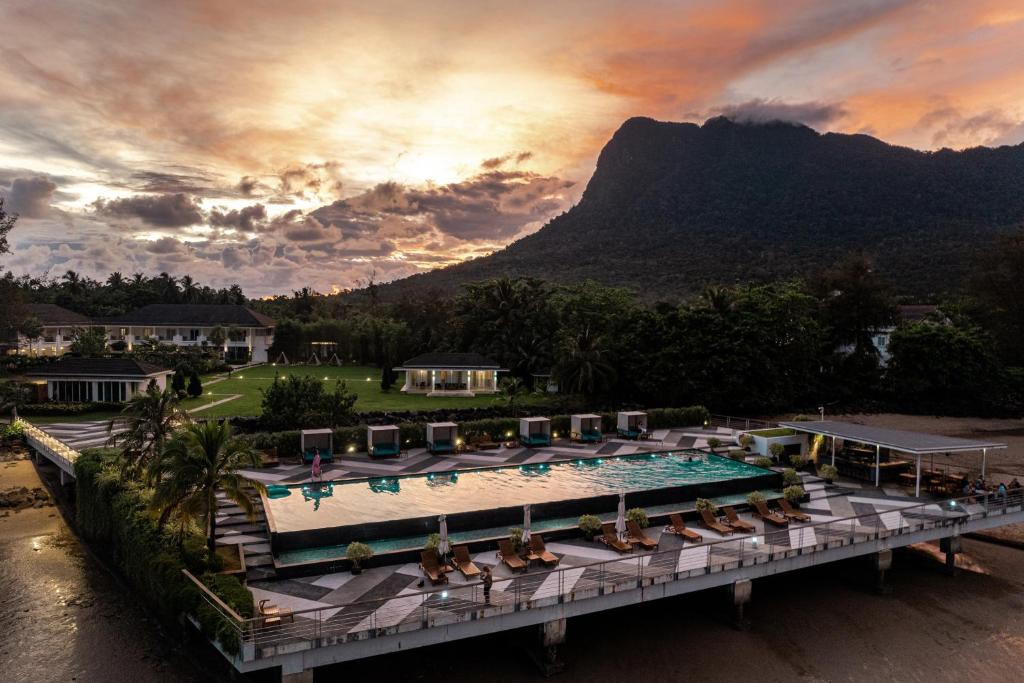 Highlight
Private Villas: Experience ultimate privacy in the hotel's exclusive villas, each equipped with a private pool and personalized butler service.
Gastronomic Delights: Indulge in a culinary journey at their in-house restaurant, where expert chefs craft exquisite dishes using locally sourced ingredients.
Wellness Retreat: Rejuvenate your senses at the spa, offering a range of treatments inspired by traditional Bornean therapies.
Comparative Analysis: What Sets Cove 55 Apart
What sets Cove 55 Kuching apart is not just its breathtaking location or lavish amenities, but the seamless blend of traditional Sarawakian hospitality with contemporary luxury. The personalized service and attention to detail elevate the guest experience, creating a stay that lingers in the memory long after departure.
Pullman Kuching Hotel: Where Modernity and Tradition Converge
Our next destination on this extravagant odyssey is the illustrious Pullman Kuching Hotel. Set against the backdrop of the Sarawak River, this hotel seamlessly blends modern architecture with traditional Sarawakian influences. The Pullman Kuching Hotel is a sanctuary of style and sophistication, offering guests an unrivaled experience in the heart of the city.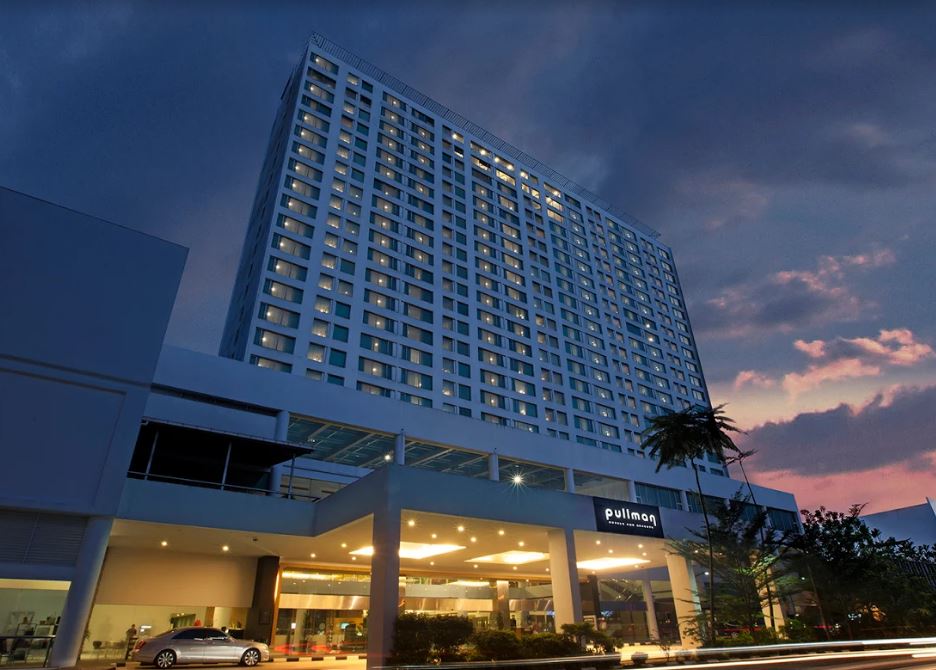 Highlight
Chic Accommodations: Immerse yourself in the plush comfort of their contemporary rooms and suites, each meticulously designed to provide a haven of relaxation.
Gastronomic Delights: Embark on a culinary adventure at Puzzle, the hotel's signature restaurant, where a fusion of local flavors and international cuisines tantalize your taste buds.
Panoramic Views: The hotel's rooftop bar offers breathtaking panoramic views of Kuching, creating the perfect ambiance for a romantic evening or a lively night out.
Comparative Analysis: What Sets Pullman Kuching Apart
Pullman Kuching Hotel stands out for its perfect blend of modern luxury and traditional charm. The hotel's commitment to environmental sustainability and community engagement adds a unique layer to the guest experience, making your stay not only luxurious but also socially responsible.
Hilton Kuching Hotel: Where Elegance Meets Splendor
Our next destination is the iconic Hilton Kuching Hotel, a beacon of elegance nestled along the Sarawak River. With its stylish rooms offering panoramic views of the river and the city, Hilton Kuching epitomizes luxurious living. Here, modern amenities merge seamlessly with traditional Sarawakian hospitality, creating an atmosphere of sophistication and charm.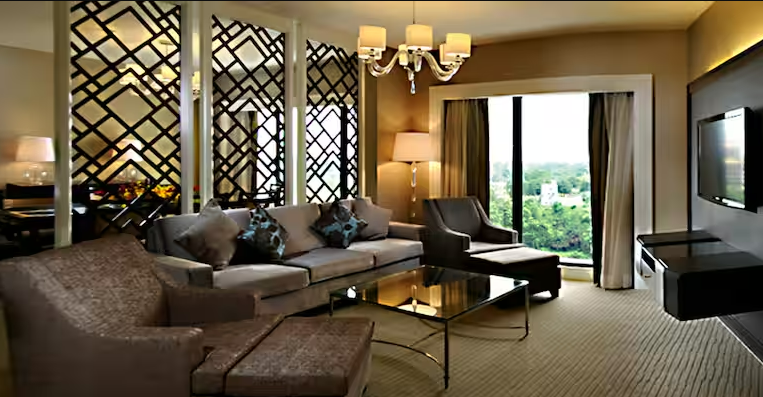 Highlights:
Riverfront Bliss: Enjoy the breathtaking views of the Sarawak River from your room's private balcony, immersing yourself in the city's natural beauty.
Culinary Excellence: Indulge your palate at the hotel's restaurants, where a diverse array of culinary delights, from local delicacies to international cuisine, awaits your discerning taste.
Wellness Oasis: Unwind at the hotel's spa and fitness center, offering rejuvenating treatments and state-of-the-art facilities for the ultimate relaxation experience.
The Waterfront Hotel Kuching: Where Luxury Finds its Waterfront Home
Adjacent to the hustle and bustle of Kuching's vibrant waterfront is The Waterfront Hotel Kuching, a haven of tranquility and luxury. One of the most famous Kuching 5 Star Hotel to the local. This hotel offers a seamless blend of contemporary design and Bornean charm. Each room is a sanctuary of comfort, providing a peaceful retreat after a day of exploration.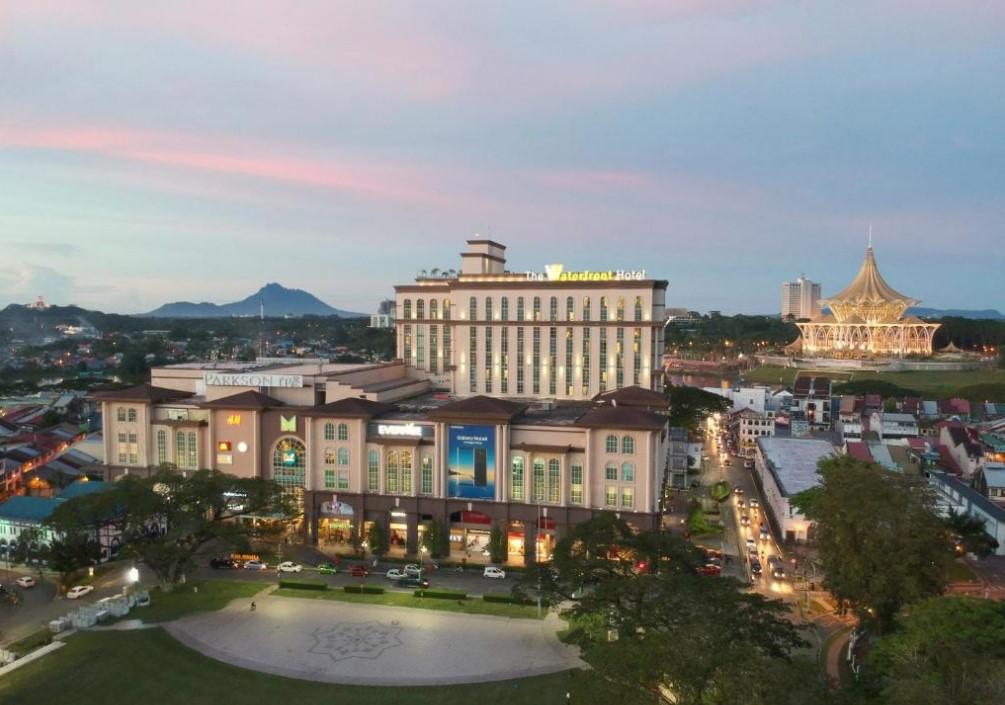 Highlights:
Panoramic Views: Revel in the stunning views of the Sarawak River and the city skyline from the hotel's rooftop bar, a perfect spot for sunset cocktails and socializing.
Gastronomic Delights: Savor exquisite dishes prepared by skilled chefs at the hotel's restaurants, where the menu reflects the diverse flavors of Kuching.
Urban Oasis: Immerse yourself in the hotel's infinity pool, surrounded by lush greenery, offering a refreshing escape in the heart of the city.
Puteri Wing – Riverside Majestic Hotel: A Majestic Experience by the Riverside
Connected to the Riverside Majestic Hotel, the Puteri Wing embodies sophistication and grandeur. The luxurious rooms and suites are designed for the discerning traveler, offering an unparalleled level of comfort and style. Here, guests are treated to a royal experience, surrounded by elegant furnishings and attentive service.
Highlights:
Regal Accommodations: Experience the height of luxury in the opulent rooms and suites, where every detail is designed to exude refinement and charm.
Exquisite Dining: Indulge your senses in the hotel's restaurants, where a curated menu of culinary delights showcases the finest local and international flavors.
Personalized Service: From personalized check-in services to dedicated concierge assistance, the Puteri Wing ensures that every guest feels like royalty.
Astana Wing – Riverside Majestic Hotel: Where Opulence Meets Tradition
Adjacent to the Puteri Wing, the Astana Wing of Riverside Majestic Hotel is a testament to the city's rich heritage and timeless elegance. Here, guests are transported to a world where opulence and tradition harmonize seamlessly. The rooms are adorned with traditional Sarawakian motifs, creating an atmosphere of cultural richness and sophistication.
Highlights:
Cultural Immersion: Immerse yourself in Sarawak's cultural heritage with the intricately designed rooms, showcasing local craftsmanship and artistic traditions.
Fine Dining: Indulge in a culinary journey at the hotel's restaurants, where traditional recipes are transformed into exquisite gourmet creations, offering a taste of Sarawakian culinary heritage.
Cultural Experiences: Participate in cultural events and workshops organized by the hotel, allowing guests to learn about the local arts, crafts, and traditions.
Comparative Analysis: The Unique Allure of Each Hotel
While each of these Kuching 5 Star Hotel embodies the essence of Epicurean Elegance, they offer distinct experiences that cater to different tastes. Hilton Kuching Hotel charms with its elegance and splendor, Pullman Kuching Hotel offers a fusion of modernity and tradition, The Waterfront Hotel Kuching provides a picturesque waterfront retreat, and the Puteri Wing and Astana Wing of Riverside Majestic Hotel offer a blend of opulence and cultural immersion.
Tips for Booking Your Luxury Kuching 5 Star Hotel Stay
When booking your luxury stay in Kuching, consider the unique offerings of each hotel. Look out for exclusive packages that include spa treatments, culinary gourmet dining experiences, and guided tours to explore the local culture. Booking directly through the hotel's booking website often grants access to special discounts and additional perks, ensuring you get the most out of your Epicurean Elegance experience.
You may book any of these luxury hotels through our OneMoreBooking portal here, where we consolidate major hotels booking website/platform around the world in just one place. You can compare prices of each hotels rooms and choose the best one for you. Some of the booking platforms always offer attractive promotion which could help you to save a lot of money. Check out OneMoreBooking portal here.
Palatial Retreats in Kuching's Most Glamorous Hotels
Epicurean Elegance is more than a concept—it's a way of life. As our exploration of Kuching's most extravagant 5-star luxury hotels comes to an end, we are left with the lingering taste of Epicurean Elegance. These exquisite accommodations has truly redefine indulgence.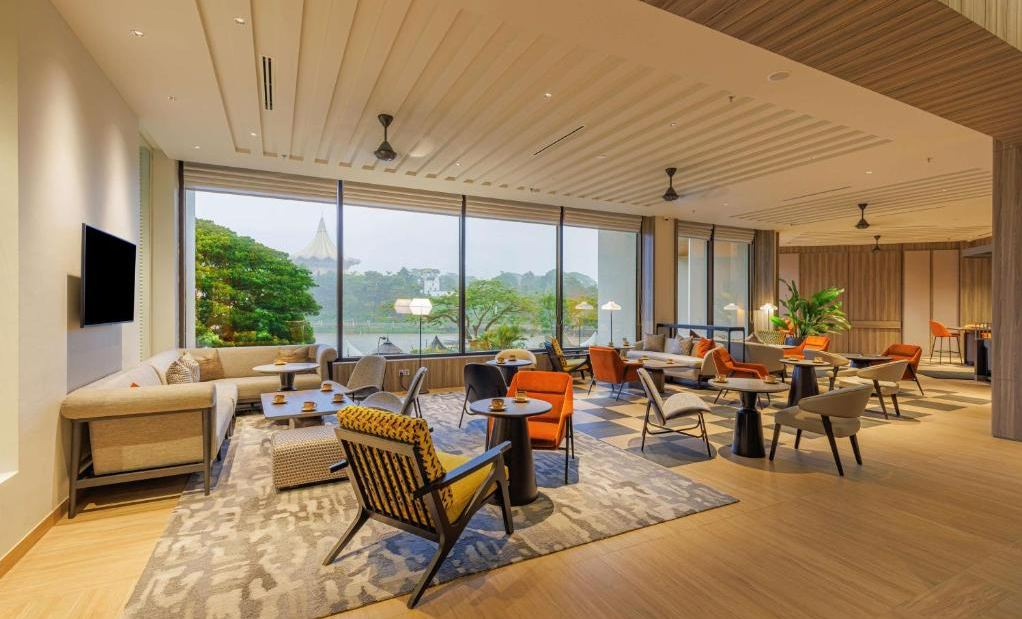 In the heart of Borneo, Kuching stands as a testament to the harmonious coexistence of luxury and nature. The top-most extravagant 5-star luxury hotels, especially Cove 55 Kuching, exemplify Epicurean Elegance, inviting travelers to immerse themselves in a world where indulgence knows no bounds. As you explore the cultural wonders of Kuching, let these luxurious sanctuaries be your haven, promising a stay that mirrors the richness of the destination itself.
In the heart of Kuching, where the Sarawak River weaves its tales, where the modernity meets tradition, where the nature embraces architecture and where the city's vibrant culture dances, these luxury Kuching 5 star hotel stand as beacons of Epicurean Elegance. Whether you choose the elegance of Hilton Kuching Hotel, the contemporary allure of Pullman Kuching Hotel, the waterfront bliss of The Waterfront Hotel Kuching, or the cultural immersion of Riverside Majestic Hotel's Puteri Wing and Astana Wing, your stay in Kuching will be nothing short of extraordinary.
Enjoy Your stay in Kuching 5 Star Hotel
May your travel journey be graced with the opulence, comfort, and sophistication that these hotels promise and graciously offers, leaving you with memories as luxurious as your stay.