Every year, on 14th February, millions of couples, boy friend and girl friend around in the world, celebrates this special Valentine's day to signify their love affection to each other. Valentine's day is celebrated big in Asia countries nowadays as well. For example it is very popular among youngers in Thailand to celebrate Valentine's day with their love one. Love is filling in the air on the month of February in Thailand, so let's delve into the Top 5 romantic destinations in Thailand for Valentine's day for you to plan ahead!
Mon Jam, Chiang Mai Province
Mon Jam, located above 1,350 meters above sea level, is a must visit spot for nature lovers. The cool breeze and mild mist all year round are what make Mon Jam a beautiful hideaway. Apart from its viewpoint, where you can immerse yourself in a panoramic view of mountain ranges, there are also Nong Hoi Royal Project vegetation areas where you can visit vegetable gardens and a research center for temperate plants. Don't miss a chance to take your loved one for a walk, hand in the pure air, in the beds of temperate flowers, and enjoy a meal under the small roof of a hut on the cliff. Be drawn into this soothing atmosphere when nowhere else can compare.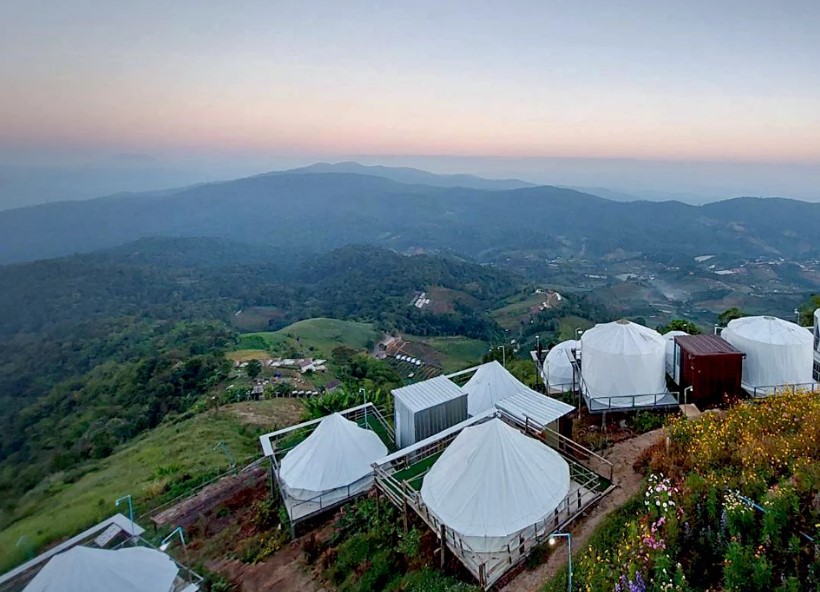 Pang Oung, Mae Hong Son Province
Recognized as the Switzerland of Thailand, Pang Oung is situated at the north part of Thailand, with a large reservoir located on a mountain. In the morning, Pang Oung is hidden in the mist, floating above the water and surrounded by pine trees, which make the atmosphere extremely romantic to lovers. Couples can choose to enjoy the a rafting ride amidst the surrounding nature, here they can watch many white and black swans swimming together in the lake. This pictorial scene and feelings inspired by the romantic vibes will last permanently in their mind. What a romantic place for couples!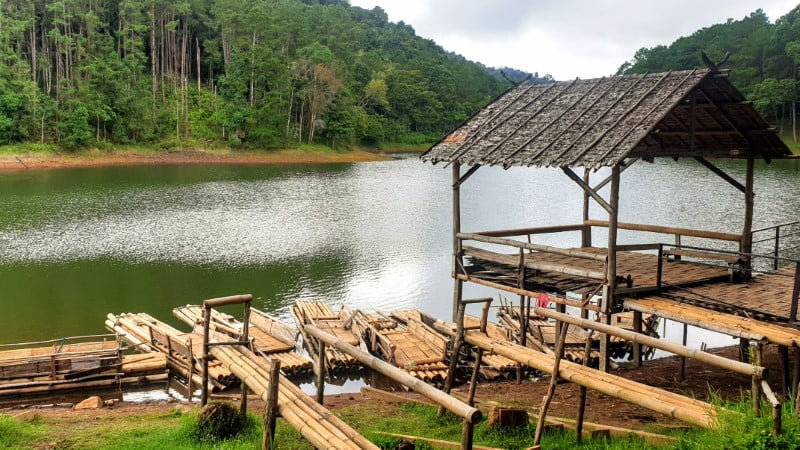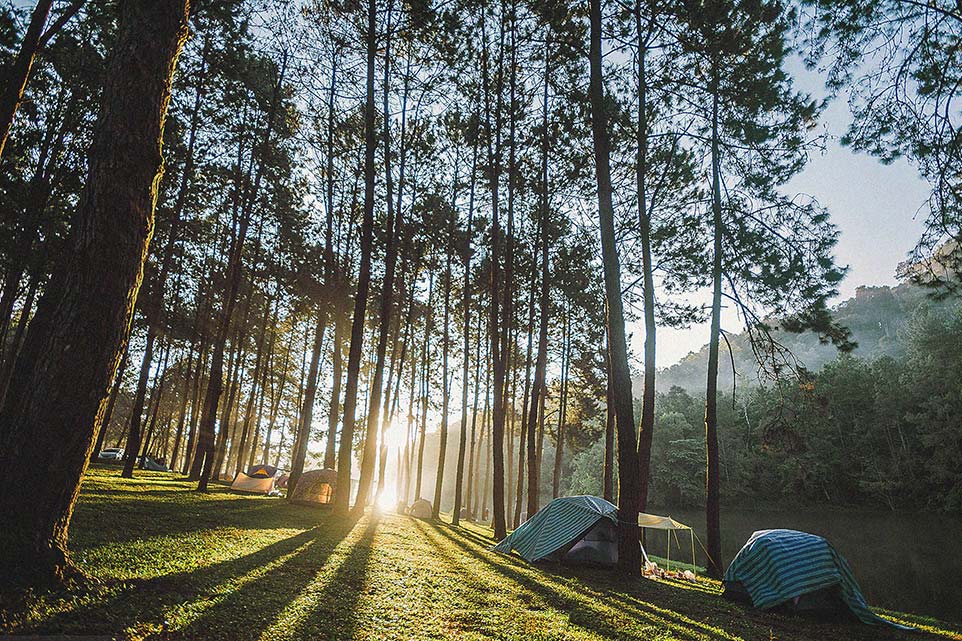 Red Lotus Lake, Eldon Thani
Red Lotus Lake (Talay Bua Deang) is located at Kumphawapi District's Nong Han. It is ranked the world's second strangest lakes after Jellyfish Lake in the Philippines by CNN. It is one of the largest lakes in Thailand, with a famous covering of red lotuses. Occupying over 20,000 hecta, the lake is filled with pinkish-red lotuses on every inch of the surface. Take a boat ride on this Red Lotus Sea and be enchanted by the blanket of pink lilies that cover the water's surfaces. Definitely a mesmerizing place for couples.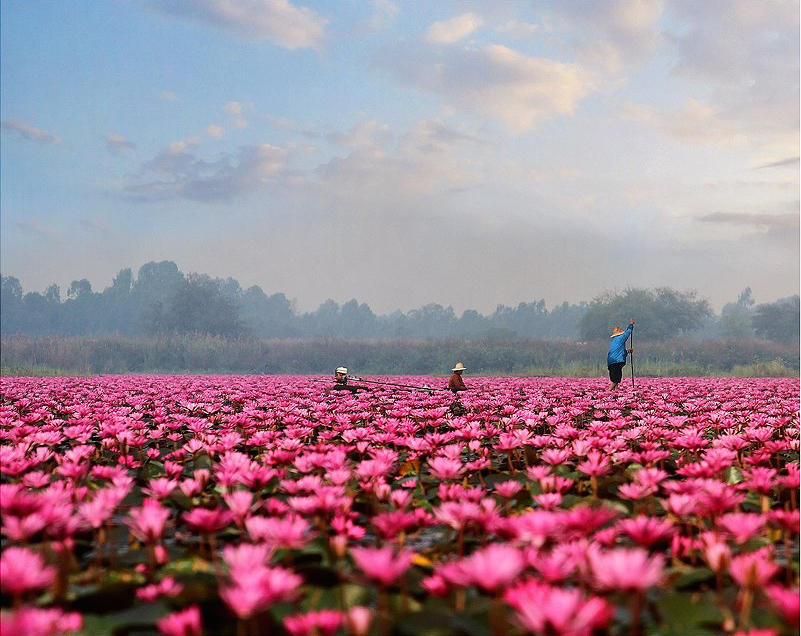 There are also birds flying in the air above and fish swimming underneath. This is an indicator of an abundant ecosystem that surrounds this red lotus lake. It is recommended to visit Red Lotus Lake during January to February because the lotuses are in full bloom. The best times for viewing is from dusk until 11am.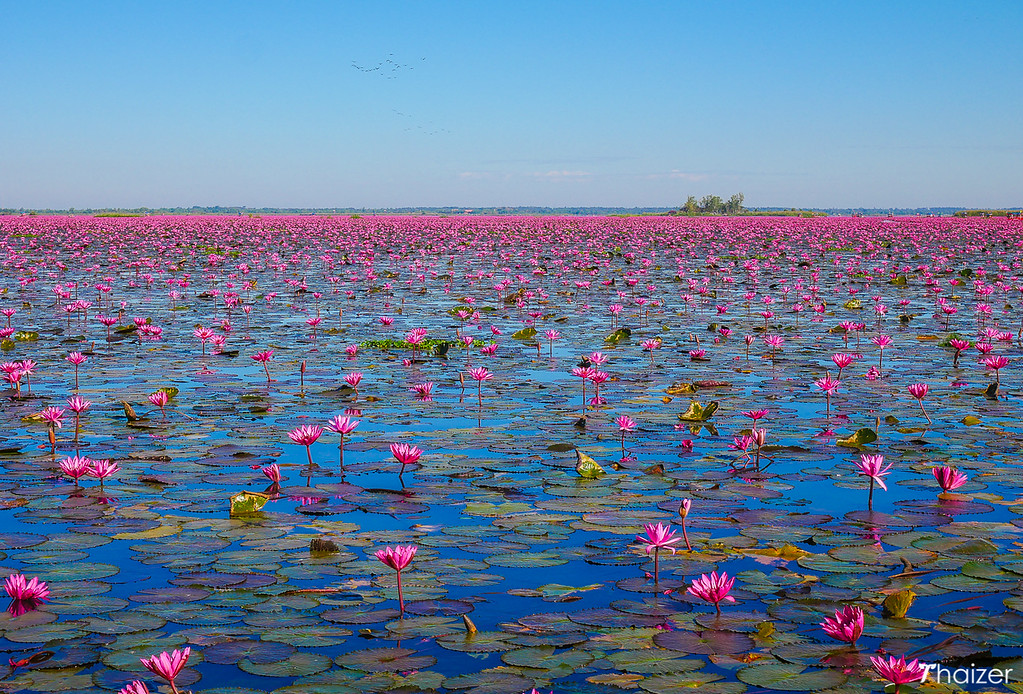 Phu Lom Lo, Loei Province
This romantic tourist attractions in Thailand will change your mind. You can find similar Sakura season in Japan here in Phu Lom Lo Thailand. Thailand's Isan region offers the largest Sakura garden in the country. Known as Phu Lom Lo, the garden is situated inside Phu Hin Rong Kla National Park, which cover over 1,200 hecta of land. Here you can also see Wild Himalayan Cherry blossoms covering the area like a soft pink carpet. If you would like to take your special someone to Phu Lom Lo, we suggest you visit from January to mid-February when the flowers are in full bloom, giving a very romantic vibe.
Tips: Consider to rend an officer's car as the road leading to the mountain in not easy, and overnight stay is not allowed at Phu Lom Lo.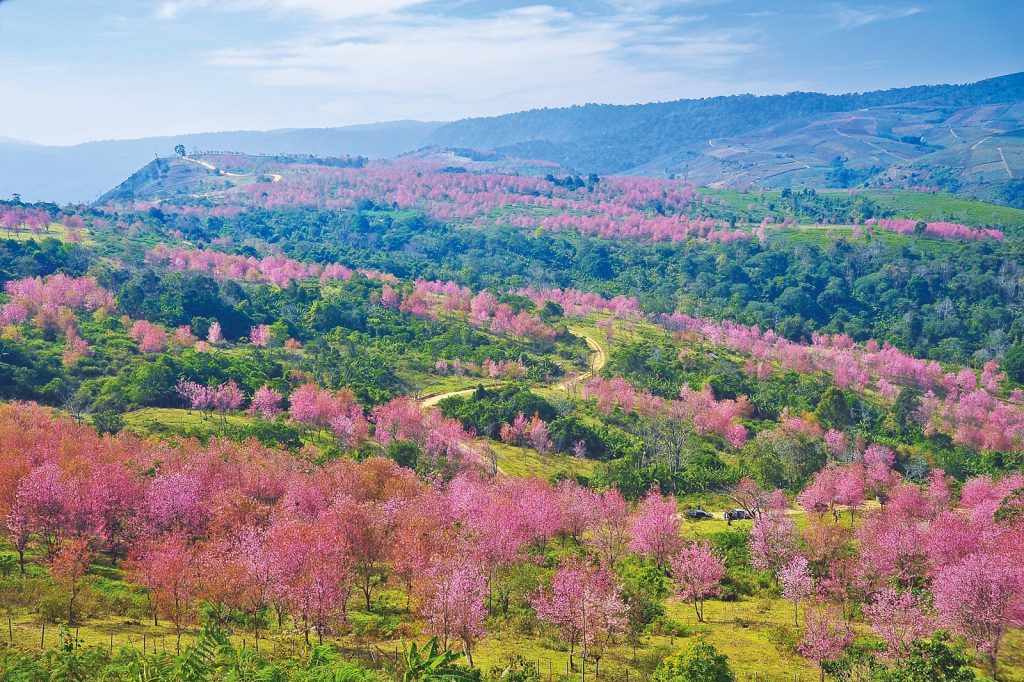 Koh Chang, Trat Province
Koh Chang at Trat Province is the 2nd largest island after Phuket in Thailand. Koh Chang (or Elephant Island) has a raw beauty that is unmatched by others islands. Its alignment of more than 52 large and small islands is where the island got its name from, resembling a herd of elephants.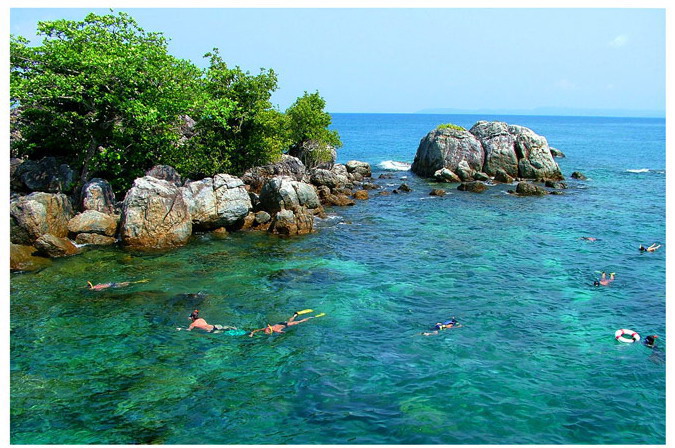 Famous tourist attractions here include Klong Prao Beach, Kai Bae Beach, Tha Nam Beach, the Thai Elephant Village and the Than Mayom Waterfall. You can take your love one to Koh Chang island anytime because there are activities offered all year round, such as snorkeling and diving, swimming, fishing for squids, trekking, mountain climbing, or even riding an elephant. Koh Chang offers adventures that will keep your holiday and love life filled with adventure for years to come.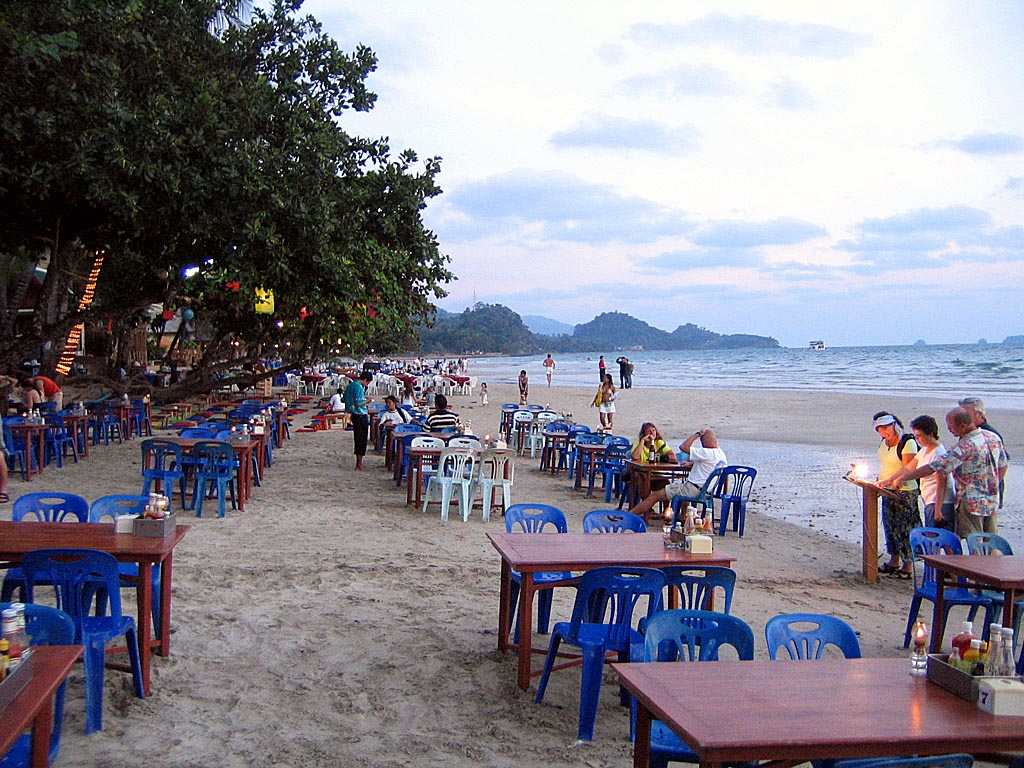 Ratchaprapha Dam, Surat Thani Province
Rattchaprapha Dam is another favourite attraction for couple for Valentine's Day. Formerly the "Cheow Lan Dam", this giant lake is surrounded by chunky, yet beautiful limestone cliffs set against the emerald water. This area is abundant with forest, making it the "Guilin of Thailand".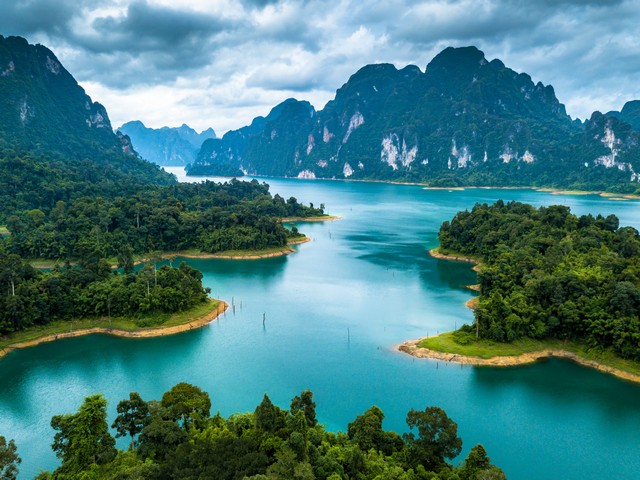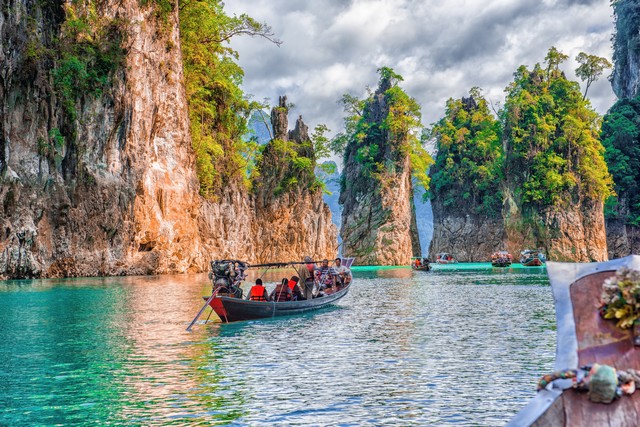 Add a romantic potion for your love life with an overnight stay on a raft hut on the water, or go for a bit of exercise that will make you sweat, kayaking and taking in the stunning scenery.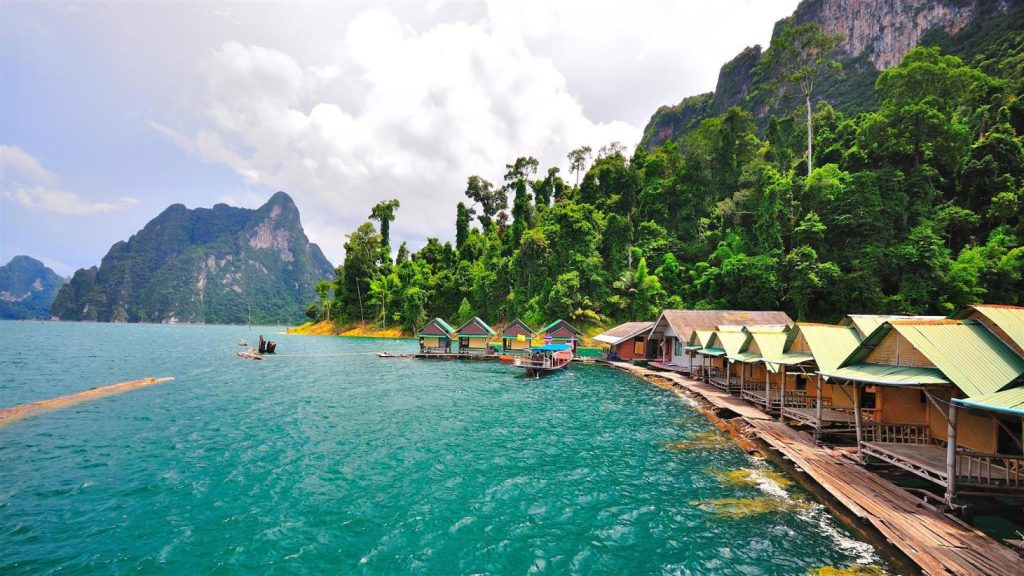 Kiriwong Village, Nakorn Si Thammarat
Kiriwong Village, is a village hidden up on mountain ranges with a calm and serene way of life. A perfect place for couple who wants to escape from busy city life. Kiriwong Villages has been awarded as a model community for eco-tourism management and was awarded Excellence in the 1997 Tourism Industry Awards in the category of Cities and Communities.
What's so pretty in the village is that there is a stream running through it alongside the view of mountain ranges and forests that are just beautiful. Apart from this, Kirwong Village is also known as the village with the best air quality in Thailand. There are also bicycle rental shops scattered around the village, so don't miss a chance to take your special person cycling amidst the enjoyable scenery of nature.
E-Tong Village, Kanchnaburi Province
Invite your loved one for a slow-life experience away from the buzzing streets of Bangkok at a little village under the mist called E-tong Village. It is where serenity and simplicity meet the abundance of nature. The weather here is cool all year round. There are no convenience stores or nightclubs here, just a market and a school. Its old cinema has been turend into grocery stores., shops and restaurants. At the centre of the village is a pond by which a small shop selling little wooden signs is located for you and your loved one to carve your names and what's on your mind onto a sign, before hanging it on the bridge. This is another way to create a special romantic memory, unique and local, set apart from the typical holiday destinations.
There is a temple here called Pilok Mine Temple, where visitors can pray at the Buddha relics from Sri Lanka.
Khao Lak
Khao Lak is popular wedding and honeymoon destination for affluent Thais. Located off the east coast of Andaman Sea, it has probably the most pristine beaches in Thailand. With these pristine and tranquil beaches, Khao Lak has become the best destination for tourists who wants to escapes from the buzzing crowded Phuket streets in recent years.
There are many water sports that enable couples to have a wonderful honeymoon here like snorkelling, swimming and diving in this pristine and calm sea water, or joining the trip to the limestone islands and sea cave exploration.
Khao Lak also at the vicinity of 5 national parks, including Lam Ru National Park, Khao Sok National Park etc., with amazing rainforests that makes it a perfect place for excursions to sanctuaries and zoos as well as rainforest adventures.
Koh Yao Noi
Located at the vicinity of Phuket Island, Koh Yao Noi is famous for being a romantic and unspoiled paradise as well as for being a popular honeymoon destination for Thais and foreigners. Koh Yao Noi is quite a secluded and quiet paradise, enable a quiet honeymoon stay for newly-wed couples.
Popular honeymoon adventures here include usual snorkelling and diving at the clear and calm sea. Couples also can book a romantic yacht cruise or relaxing cycle trip to explore the surrounding area, or even visiting those tourist attractions at Phuket Island.

Thailand, a country with plenty of romance
So, if you are a planning for a romantic trip to escape from the freezing winter, head to South East Asia countries like Thailand that will provide you with plenty of choices, beside the most popular and always crowded Phuket Island and Koh Samui. Hopefully, this destination guide will help you to plan your next romance trip with your love one in Thailand.